The Department of Mechanical Engineering of the University of Moratuwa is pleased to announce the commencement of the training programme on "Traditional and Contemporary Machining Processes" and calls for applications from suitable candidates. The course is commencing from March 2023 and will be a 24-hour course. Details of the training programme can be obtained from the below news article or via the programme web page https://uom.lk/mech/courses/shortcourses/traditional_and_contemporary_machining_processes
| | |
| --- | --- |
| Application deadline: | 14th March 2023 |
| Intake 1: | From March - April 2023 |
Course Title:
Training Programme on Traditional and Contemporary Machining Processes
Course Objective:
To provide an introduction and basic hands-on training on using traditional and contemporary machining processes commonly used in industry.
Target group:

Workshop Engineers
Workshop Engineering Executives

Entry requirement:
Degree, diploma, certificate from a recognized technical institute,
OR
Any other qualification acceptable to the selection committee.
Duration:
8 number of of 3-hour sessions (These sessions will be scheduled within 3 months span)
Medium:
Sinhala / English
Venue:
Department of Mechanical Engineering, University of Moratuwa
Group size:
20 participants per intake
Course Fee:
Rs. 28,000/= per participant
Programme schedule:
Lectures and workshop practicals
Commence on:
March 2023
Apply before:
14th March 2023
Course Content
Lathe work
Milling operations
Drilling/Boring/Reaming operations
Shaping/Grinding operations
CNC Part Programming and operations
Required documents for applying
Duly completed application form
A scanned copy of the NIC or the Passport
Scanned copies of relevant academic / technical qualifications
Letter of consent from your employer
Application Procedure
SELECTION IS DONE ON FIRST COME FIRST SERVED BASIS IF THE APPLICANT IS QUALIFIED.
Application forms can be downloaded from here OR obtained via email by sending an email to lalithad[at]uom.lk. Duly completed application together with the requested documents (scanned to a single PDF file) to be sent to lalithad[at]uom.lk.
Since the selection is done on first come first served basis if the applicant is qualified, a qualified applicant may not be selected for a particular intake that he/she applied for. However, such applicants will be given the priority in the next intake and they need not to re-apply.
A selection letter will be emailed to all the selected applicants and no payment should be made until such a letter is received.
DOWNLOAD THE LETTER OF CONSENT FORM
Contact Us:
Contact person
Mr. Lalith Dayananda

Workshop Engineer, Department of Mechanical Engineering, University of Moratuwa
Phone: 011 2650301 (Ext: 4072)
Mobile: 071 4960151
Email: lalithad[at]uom.lk
Course Coordinator
Dr. Subasinghe LU, PhD (NUS, Singapore)

Senior Lecturer, Department of Mechanical Engineering, University of Moratuwa
Phone: 011 2640465
Email: lihils[at]uom.lk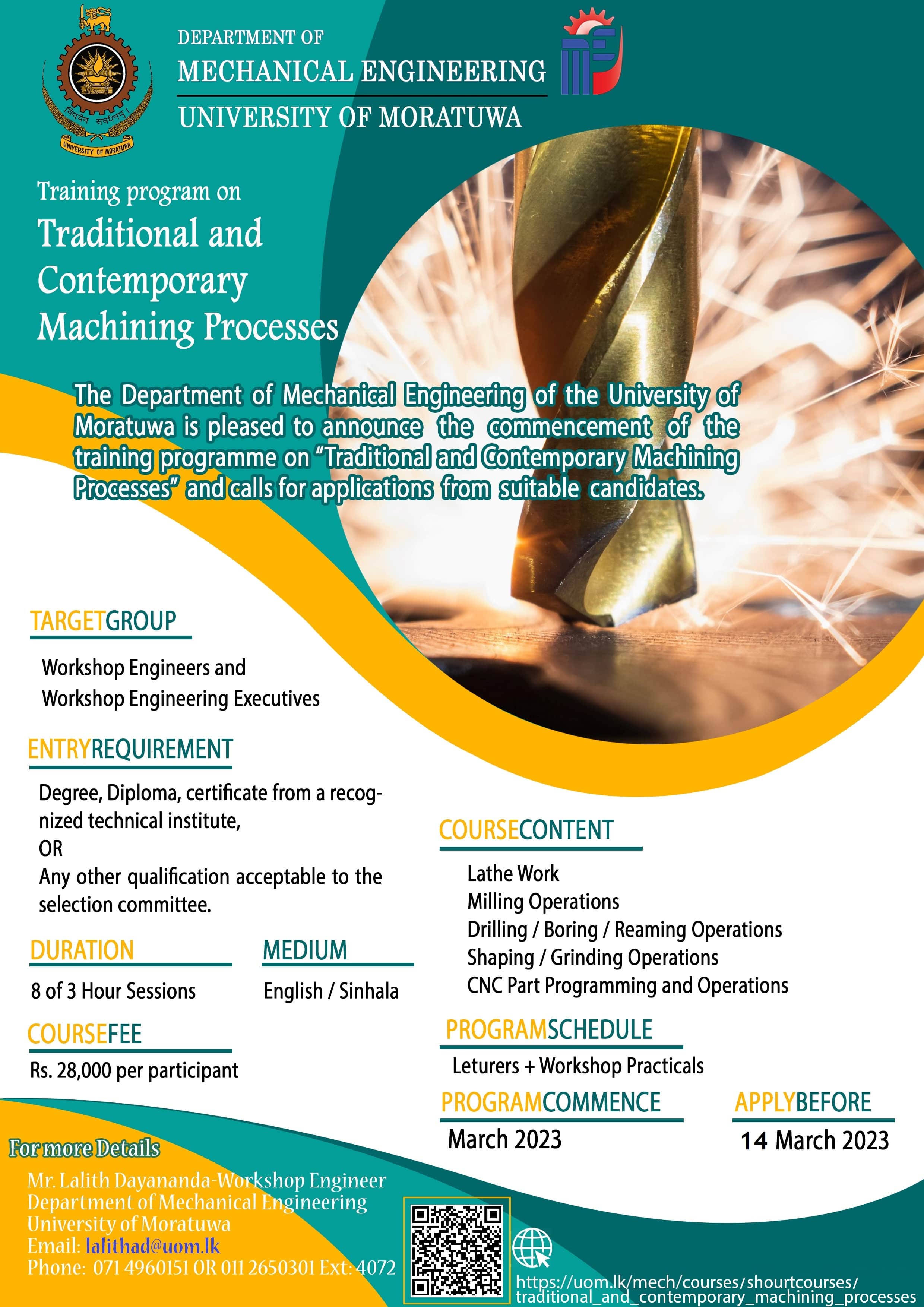 Published on 14th February 2023