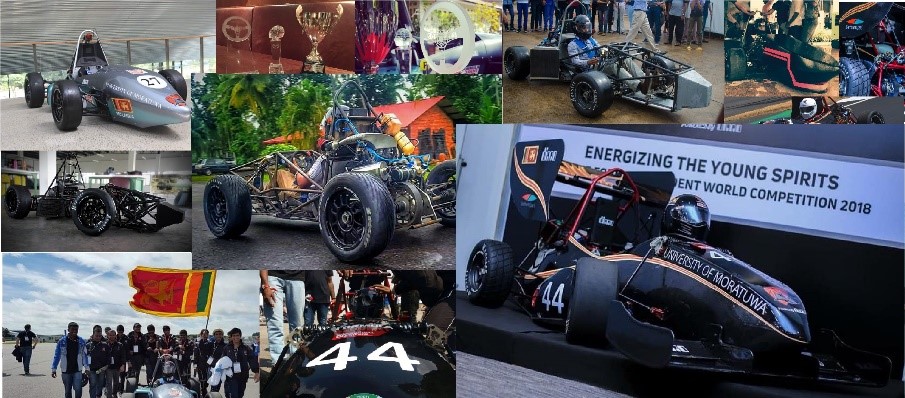 Team SHARK Racing from the Department of Mechanical Engineering is a team of volunteers formed amongst the undergraduates to design, develop, and manufacture a formula student car for the annual formula student competition in the UK (FSUK). The event is organised by the Institute of Mechanical Engineers (IMechE), UK. Formula Student is the world's most established student engineering competition and each year different countries organize separate competitions independent of each other. With the sole sponsorship of the DIMO Lanka PLC, the Team Shark prepares for the annual Formula Student UK event.
Since 2016, teams of nearly twenty students volunteer dedicating their time and efforts to create a new car to represent Sri Lanka in this international event. The TeamSHARK 2016 was the first to participate in the FSUK competition representing Sri Lanka. They had to overcome enormous challenges including securing financial support. In their very first attempt, TS2016 was able to secure three awards: Best newcomer, Best Individual driver (by Induwara Munasinghe) and Dedication to Formula Student award.
In 2017, the team was able to create a much-improved vehicle with the help of the experience and knowledge gained in the 2016 competition. This car had a better power to weight ratio. However, they were unable to attend the FSUK 2017 competition due to unavoidable reasons.
In 2018, with the experiences of the previous two years and the unwavering support of department's academic staff, 19 students were able to design and develop a completely new car for FSUK 2018 competition with more advanced use of technology for each system of the car. Lighter in weight, sophisticated in technology and more aesthetically appealing with traditionally inspired livery. The material and outer body fabrication support by SouthernSpars was a key to achieve the lighter weight of the body resulting in total car weight of 209 kg.
With the full support of DIMO, the team participated in the competition held at the legendary Silverstone international racing circuit. They have shown improved performance in each event of the competition. Achieving 12th in the Engineering Design, 11th in the Skidpad event, 19th in the Endurance event and 26th in the acceleration event. They were able to rank the University of Moratuwa at 33rd position in the overall ranking of the competition, surpassing some of the most technically advanced reputed universities in the world.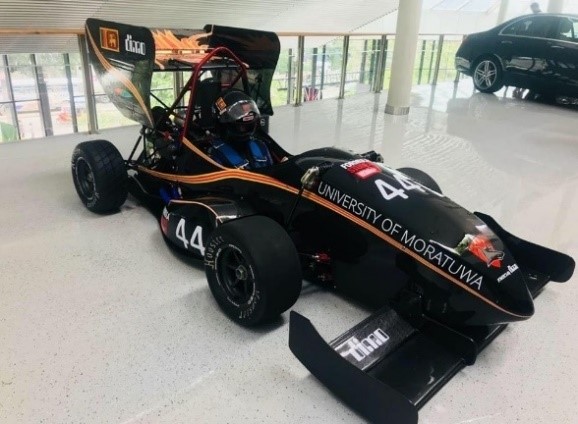 Di-MORA P2 "Fire Demon"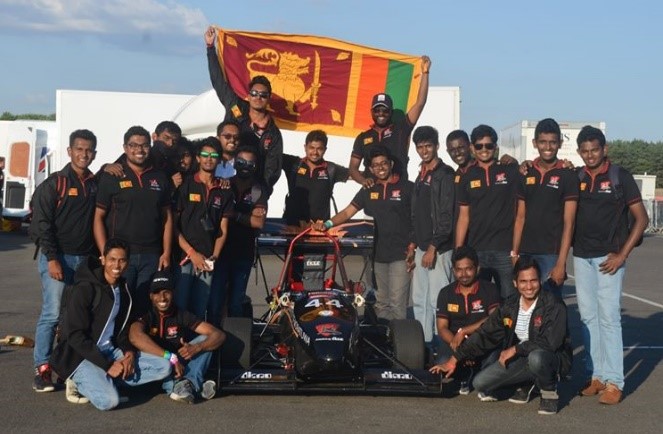 Formula Student 2018 Team