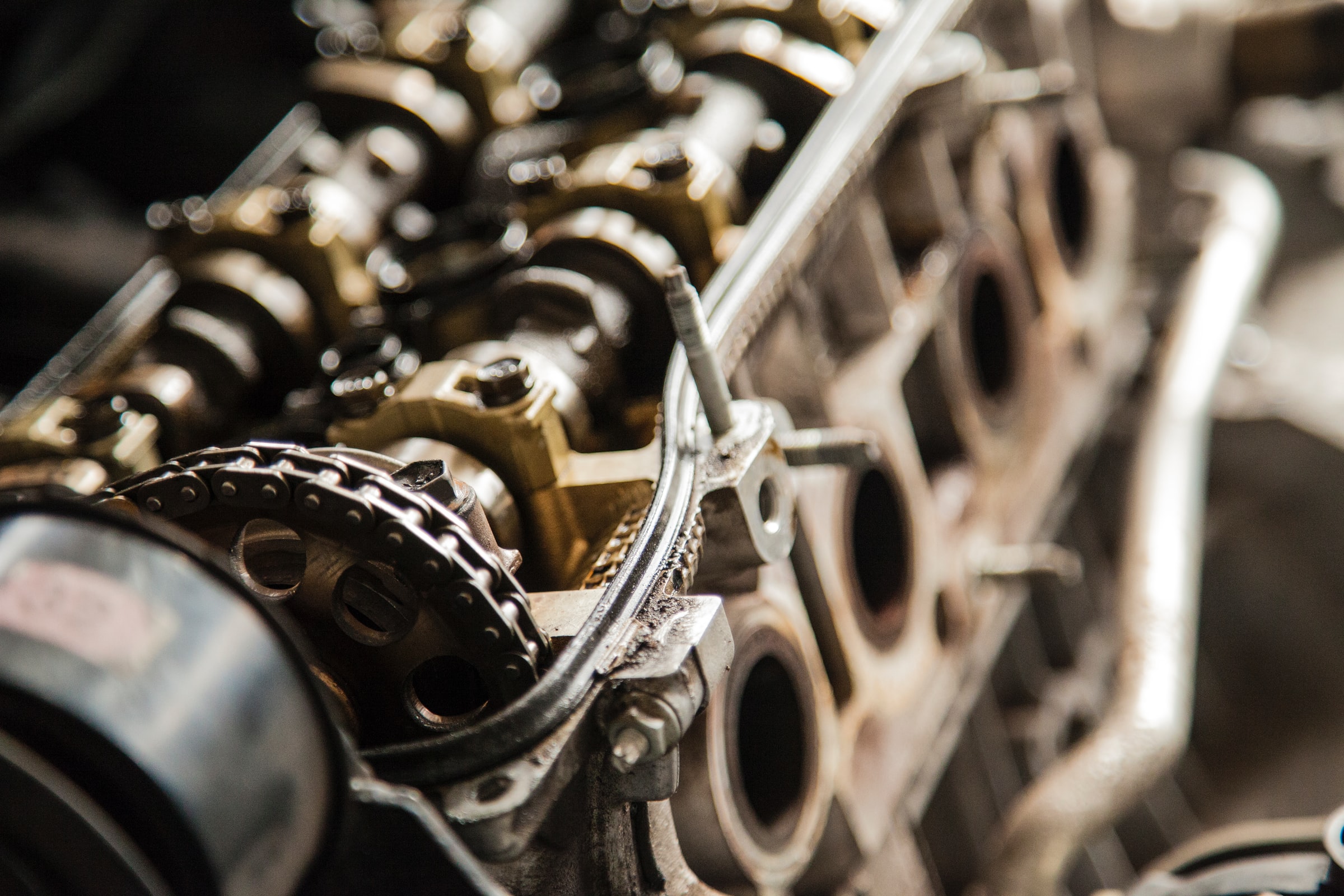 Introduction
In accordance with the Vision and Mission of the Department of Mechanical Engineering and Washington Accord of the International Engineering Alliance (IEA), the academic programme is designed to deliver Honours Degree of Bachelor of the Science of Engineering [BSc Eng (Hons)] specialised in the field of Mechanical Engineering.
Graduate Profile
Graduates of the Mechanical Engineering programme are distinguished by their; analytical, innovative design, and research skills; ability to adapt to challenging work environments with a positive attitude; acumen to be a part of and lead multidisciplinary teams; and potential to become self-disciplined professionals to understand and develop creative solutions for real-world issues appreciating the sustenance of all beings.
Programme Educational Objectives
The Mechanical Engineering Programme Educational Objectives (PEOs) are set to produce graduates who are expected to;
Emerge as experts and competent professionals introducing innovation and creativity in Mechanical Engineering or allied disciplines such as Mechatronics and Aeronautical Engineering.
Develop skills to provide leadership as entrepreneurs, policymakers, executives or academics.
Be socially responsible individuals by adhering to codes of ethics and professional standards.
Engage proactively with a diverse range of tasks, be able to work in multidisciplinary teams and effectively communicate with a wider audience.
Continue life-long learning with an unwavering focus on continuous improvement, and professional development through engineering certifications, postgraduate studies, and research.
Accreditation and Quality Assurance
The BSc Eng (Hons) degree programme is accredited by the Institution of Engineers Sri Lanka (IESL). In addition, the Mechanical Engineering degree programme has obtained international recognition through the accreditation of the Institution of Mechanical Engineers, UK (IMechE) and Washington Accord.
Following table shows how our Programme Educational Objectives map to the attributes required of an engineering graduate (Programme Outcomes or POs) listed under Section 5.5 of the IESL Engineering Programme Accreditation Manual.
| | | | | | | | | | | | | |
| --- | --- | --- | --- | --- | --- | --- | --- | --- | --- | --- | --- | --- |
| PEO/PO | PO1 | PO2 | PO3 | PO4 | PO5 | PO6 | PO7 | PO8 | PO9 | PO10 | PO11 | PO12 |
| PEO1 | H | H | H | H | H | - | L | M | L | - | - | L |
| PEO2 | L | - | - | - | - | H | M | - | M | L | H | - |
| PEO3 | - | - | L | - | - | H | H | H | - | - | - | - |
| PEO4 | - | - | - | - | - | - | L | - | H | H | M | - |
| PEO5 | - | L | - | M | L | - | - | - | - | L | - | H |
L=Low, M=Medium, H=High
| | |
| --- | --- |
| PO1 | Apply knowledge of mathematics, basic sciences and engineering fundamentals to the analysis of complex engineering problems. |
| PO2 | Identify, formulate, research literature, conduct investigations and solve complex engineering problems to provide valid conclusions. |
| PO3 | Design systems, components or processes that meet specified needs. |
| PO4 | Conduct investigations of complex problems using research based knowledge and research methods. |
| PO5 | Create, select and apply appropriate techniques, resources, and modern engineering and IT tools to complex engineering activities. |
| PO6 | Assess societal, health, safety, legal, cultural and environmental issues related to professional engineering solutions. |
| PO7 | Demonstrate broad knowledge of sustainable development concepts and practices required for dealing with contemporary issues related to professional engineering practice. |
| PO8 | Demonstrate broad knowledge of ethical responsibilities and professional standards. |
| PO9 | Demonstrate ability to function effectively as an individual and in multidisciplinary and multi cultural teams, with the capacity to be a leader or manager as well as an effective team member. |
| PO10 | Communicate effectively on complex engineering activities with the engineering community and with society at large, such as being able to comprehend and write effective reports and design documentation, make effective presentations, and give and receive clear instructions. |
| PO11 | Demonstrate broad knowledge of management and business practices, including financial management, risk and change management. |
| PO12 | Engage in independent and lifelong learning in the broad context of technological change. |
Structure of the Degree Programme
The degree programme is of four years duration. The specific field of specialisation is identified by the students at the end of a common programme in the first semester of study except for two study programmes that have direct entry. The selection for a particular study programme is done based on the students' preference and their performance at the Semester 1 examinations.
From Semester 2 onwards Mechanical Engineering students are offered more field-specific course modules. The course syllabi were revised and the semester system was introduced in the year 2000 to match with the current trends in the education system and the industry. This was again revised in 2009 and the field selection was brought to the end of Semester 1. The two streams; Mechatronics Engineering and Aeronautical Engineering were commenced with the 2015 intake. At present, the number of undergraduate students enrolled in the Department per batch is 120 including 10 undergraduates specialising in Mechatronics Engineering stream and another 10 undergraduates specialising in Aeronautical Engineering stream. Minor revisions to the course contents have been done periodically based on the student/staff feedback and the comments made by the personnel from the industry during Department Industry Consultative Board (DICB) meetings. Therefore, the curriculum can be regarded as up-to-date and relevant.
With the commencement of two Postgraduate degree programmes, viz. Energy Technology and Manufacturing Systems Engineering, the focus of the undergraduate programme has also been oriented broadly towards specialising in these two areas of current industrial interest. Along with these changes, the Department has been mindful to retain its application-oriented training through revised methods of teaching and training supported by a well-coordinated industrial visits programme, in addition to the compulsory industrial training programme.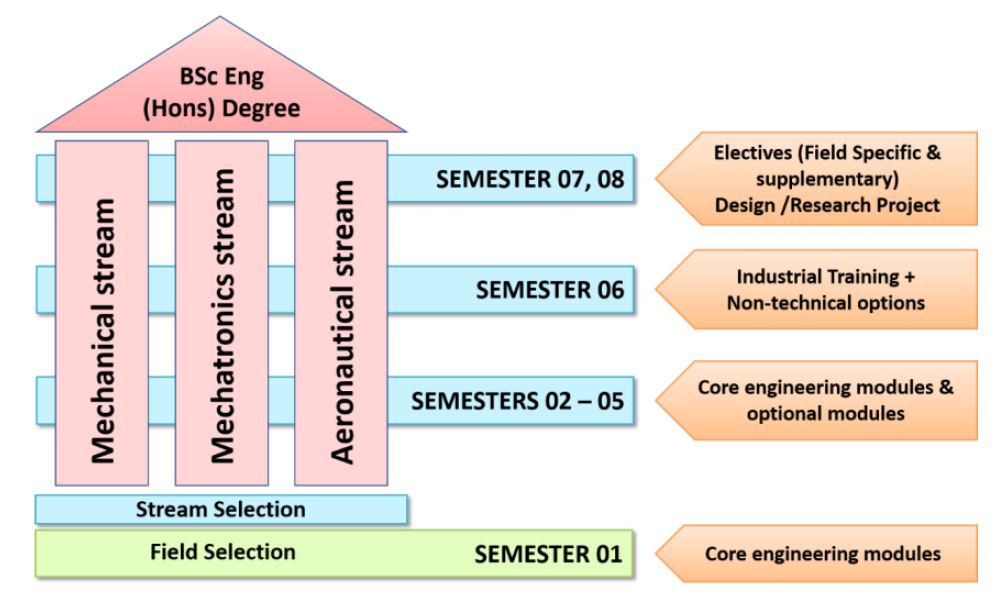 Click here to see the detailed Curriculum and Credits Distribution of the Mechanical Engineering degree programme.
Click here to see the Performance Criteria for the Honours Degree of Bachelor of the Science of Engineering.
Updated on 28th November 2021