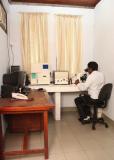 Chief University Medical Officer: Dr. (Mrs.) Salgado
The Medical Center provides care to all students and staff of the University. Students are advised to get registered at the center early. They should provide their record books or ID cards when calling at the Center. No facility of the centre will be provided without the record book or ID card. Treatment is free of charge to students during their normal academic sessions and during their examinations. 
All new entrants to the University will have to complete the medical examination at the Centre, for which prior appointments should be made. All information obtained during consultations, examinations and treatment will be kept confidential.
The comprehensive health care provided by the centre includes a preventive and curative service for physical and psychiatric illness. All students are requested to seek the Medical Officer's advice early.  immunization against Tetanus is also carried out at the Centre. On the preventive side, steps are being taken to control the spread of infectious and communicable diseases.
Routine pathological examinations are being conducted in the laboratory at the Medical Centre. 
No warding facilities are available at the centre. 
Dental services are available for the students free of charge.