The B.Sc. Eng. (Hons.) degree programme is of four years duration. The specific field of specialisation is identified by the students at the end of a common programme in the first semester of study. The selection for a particular study programme is based on the students' preference and their performance at the Semester 1 examinations.
From Semester 2 onwards Mechanical Engineering students are offered field specific course modules. The course adopts a semester system to match with the current trends in the education system around the world and the industry. Minor revisions to the course contents are being carried out periodically based on the student / staff feedback and the comments made by the personnel from the industry during Department Industry Consultative Board (DICB) meetings. Therefore, the curriculum can be regarded as up-to-date and relevant.
Accreditation and Quality Assurance
B.Sc. Engineering degree programme is accredited by the Institution of Engineers Sri Lanka (IESL). In addition, the Mechanical Engineering degree programme has obtained international recognition through the accreditation of the Institution of Mechanical Engineers, UK (IMechE) and Washington Accord.
Structure of Degree Programme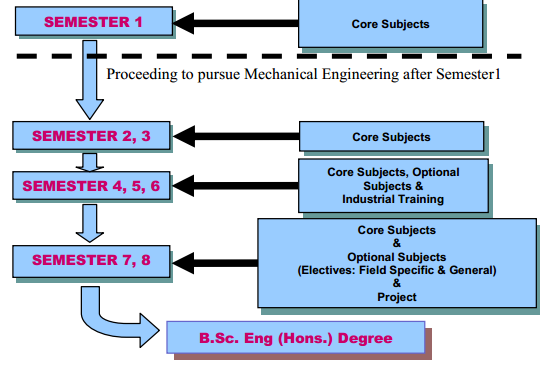 Awards
Gold Medal for the Best Mechanical Engineering Graduand donated in memory of late Mr. JayaweeraKuruppu awarded to the Mechanical Engineering Graduand who has obtained the highest overall Grade Point Average of 3.8 or above at the B.Sc. Engineering Degree examinations.
National Development Bank Award for the best Mechanical Engineering student who has obtained the highest cumulative Grade Point Average of 3.7 or above in the examinations of the course modules ME 2020 Manufacturing materials & Material removal processes, ME 2070 Manufacturing processes and ME4330 Computer Aided Design and Manufacture. 
MR Prelis Award for the Mechanical Engineering student who has obtained the highest overall mark with Grade A or above in the examination of the course module ME 4050 Industrial Engineering.
Prof. G.K. Watugala Memorial Award for the Mechanical Engineering student who has obtained the highest overall mark with Grade A or above in the examination of the course module ME 3010 Control Systems and Instrumentation