INDUSTRIAL TRAINING PROGRAM AT DEPARTMENT OF TOWN & COUNTRY PLANNING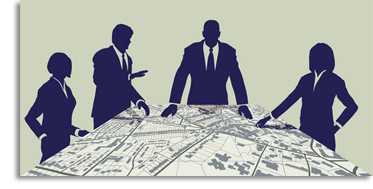 Industrial training is one of the core modules offered to undergraduate students during level 4 Semester 7. The module contains 5 credits with Grade Point Average (GPA) and students are required to complete a minimum of 16 weeks (04 months) of training at a planning related agency on a full-time basis.
The main aims expected from industrial training module are to get an exposure for students to the working environments in planning related agencies and to allow students to participate in practical applications of the knowledge gained in planning related work. The learning outcomes expected from the students from the module are:
Apply knowledge with the other professionals involved in the industry.

Appraise office procedures, work environments and work ethics in planning and related agencies.

Prepare practice-based research proposal for individual research project.
Industrial training module is handled by industrial coordinator in the Department of Town & Country Planning and students are required to provide their Curriculum Vitae at the end of Semester 6 (Level 3) to initiate internship at the beginning of Semester 7. Internship is not only based on companies in Sri Lanka, but overseas planning related agencies are also targeted. First step is the selection of companies based on the training competencies expected from institutes/ agencies to fulfill the module requirement.
Training competencies specify the type of training recommended and the level to which Town & Country Planning Undergraduates could expect to be trained under ideal situations. Specific areas to be covered by a trainee during his/ her training period are as follows.
Preliminary data collection and analysis exercises, using different techniques and computer aided software.

Plan / Project Planning and Designing

Involve with planning related preliminary studies on such as EIA, SEA, SIA, PFS, FS, etc.

Plan Implementation

Monitoring and Evaluation process

Project Management and Financial Assessment related activities in planning

Legal Procedures of the Plan Preparation and Implementation

Office Procedures and Protocols
Trainees are expected to cover aforesaid areas to fulfill the comprehensive industrial training experience within the stipulated timeline. Training agencies form variety of disciplines to engage students in field work, office work, research, and variety of stakeholder consultations to gain maximum benefits from the program. The agencies include government agencies, private sector agencies, research institutions and non-governmental agencies including the following:
Urban Development Authority

National Physical Planning Department

National Building Research Organization

Sri Lanka Tourism Development Authority

Board of Investment

John Keells Holdings Pvt. Ltd.

GreenTech Consultants Pvt. Ltd.

UN-Habitat

International Water Management Institute

Nascent Technologies Pvt. Ltd, Ahmedabad, India
Industrial training opportunities have created the undergraduate students to transform their career aspirations and frame the future life goals to follow the path of a professional upon graduation. The opportunities are available for those performed well in their training period to undertake prestigious positions in the respective agencies upon graduation. The alumni employed at variety of agencies both in Sri Lanka and overseas are the evidence for their success in the industrial training program.