Building with Bamboo - Workshop - B.Arch (Hons) Level 1 - Structure Project
In Sri Lanka, due to the current increase in the price of construction materials, alternative materials of construction are finding their way into the construction industry. Bamboo is one such material, currently available in Sri Lanka, which has to potential to be explored as an environmentally friendly material for structural construction at a fraction of the cost.

Promoting bamboo as a structural material for construction would benefit communities, the economy as well as the environment in any context of implementation. More specifically, engaging in bamboo construction would be aligned with the following Sustainable Development Goals established by the United Nations.

With this in mind, the B.Arch Level One students are in the process of designing and constructing five student pavilions within University of Moratuwa, Sri Lanka, in an attempt not only to learn structural principles but even explore the notion of space, sustainability, and eco-friendly design.

We appreciate the continuous assistance given by our resource persons; Archt. Thilina Wijekoon, Archt. Darshana Rodrigo, Archt. Mangala Gamage, Archt. Anurangi Mendis, Mr. Ismael Abedin Ingelmo, Archt. Mutiara Tegal, and Mr. Freddie Catlow.
Health & Safety Workshop & Audit - B.Arch (Hons) Level 1 - Structure Project
We consider 'Health & Safety' as a value system to be cultivated from a young age.

Workshop - 16th November 2022
Audit - 29th November 2022

Conducted by Mr. Tissa Dodangoda (Senior Lecturer - Faculty of Engineering/ Health & Safety Specialist)
IDALscape 19 - The graduation showcase of BLA
The graduation showcase of the 2014/15 batch of BLA degree, iDALscapes19 was an event accomplished with great success within the dates 15,16 & the 17 of August 2019 at Arcade Independence Square. The event was accompanied by the addition of the selected exhibits of the 2nd year projects and the Major design projects of the BLA degree. 
Workshop by Mathias Kestel on clay storming
June 11-13 2019, At the Department of Architecture, University of Moratuwa
Clay, as a model making material was explored extensively, and creatively by the students of the 4th year Bachelor of Architecture Honors degree program at the Department of Architecture, of the University of Moratuwa. The workshop was conducted as a joint endeavour to the exhibition "Think Global, Build Social - Architecture for a better world", which explores the theme of Social Responsibility in Contemporary Architecture, by Architect Matthias Kestel, lecturer at the Technical University of Munich, Germany. The project was funded by the Goethe Institut of Germany in Colombo.
We began the workshop with a short introductory presentation by Matthias, on "Claystorming" as he calls it, and what the exhibition and their work is all about. Then began the workshop.
The basic timeline of the exercise was as follows. We first did a preliminary study of the context, in groups of 5, and identified a lacking social need which can be fulfilled through an architectural intervention, done within a matter of two hours. Our ideas and intentions were discussed with Mathias and our respective tutors of the 4th year, deciding on what project and how we should construct our buildings. The idea was quite clear and simple. The design needs to be derived by using clay as a medium to communicate our ideas. It need not be too complex so that we could come up with a feasible design within the limited time frame we had.
The second and third days were spend with us coming up with a suitable design. The plasticity of the material was key in allowing us to explore many forms, curvatures, and unlikely shapes, creating interesting spaces and voids as we go. In my own experience, we began creating our project by landing the lump of clay on a board with our site demarcations, leaving us with a mount of material just lying there, and step by step began carving out possible spaces for our design.
Most of us followed through with simple shapes, beginning by defining our geometric formations, and carving out voids from within the solids mounds, then proceeding on to adding minor detailing to our work, which took place way after we had tried a number of different zoning and planning options, on the same clay board.
The second day ended, with us going back again to the people of the surrounding area and discussing our interventions with the people, receiving their feedback. On the third day we further developed our design with details. 
At the end of the workshop, the students presented their work in presentations to the class, explaining their approach and how they reached their design through the model making process, and finally how the material mattered in achieving the desired outcome.
Using a material that had no defined geometric formation was I guess the most interesting of all, and at the end of the day, I find my self in favor of using material with such capabilities. The other advantage is that, if your building stands with clay, you can actually achieve that shape and built form, because of the homogeneous quality of it. So your chances of creating a structure that might fall any minute, is far more minimum than using super glue and boards.
This brings us to a much finer problem we have amid us. Our mediums of expression. And our focus on projects. Discussing about the latter idea, we tend to typically do buildings to the elite or anyone who can say yes to the most expensive material on the planet, and continue to create designs just barely feasible enough to be constructed using outdated age old techniques, giving a blind eye to the raging imbalances in climatic and socioeconomic conditions.
Our mediums of expression are usually a very important factor, especially when it comes to arriving at the best solution, or formulating a design response, and using mould-able, available, affordable material defined a new avenue in design thinking for most of us. We have to think with our hands, so that we can mould out, carve out those ideas for the greater good of the society and nonetheless, I believe was achieved by conducting these exercises.
Thank you Mathias Kestel and Goethe Institut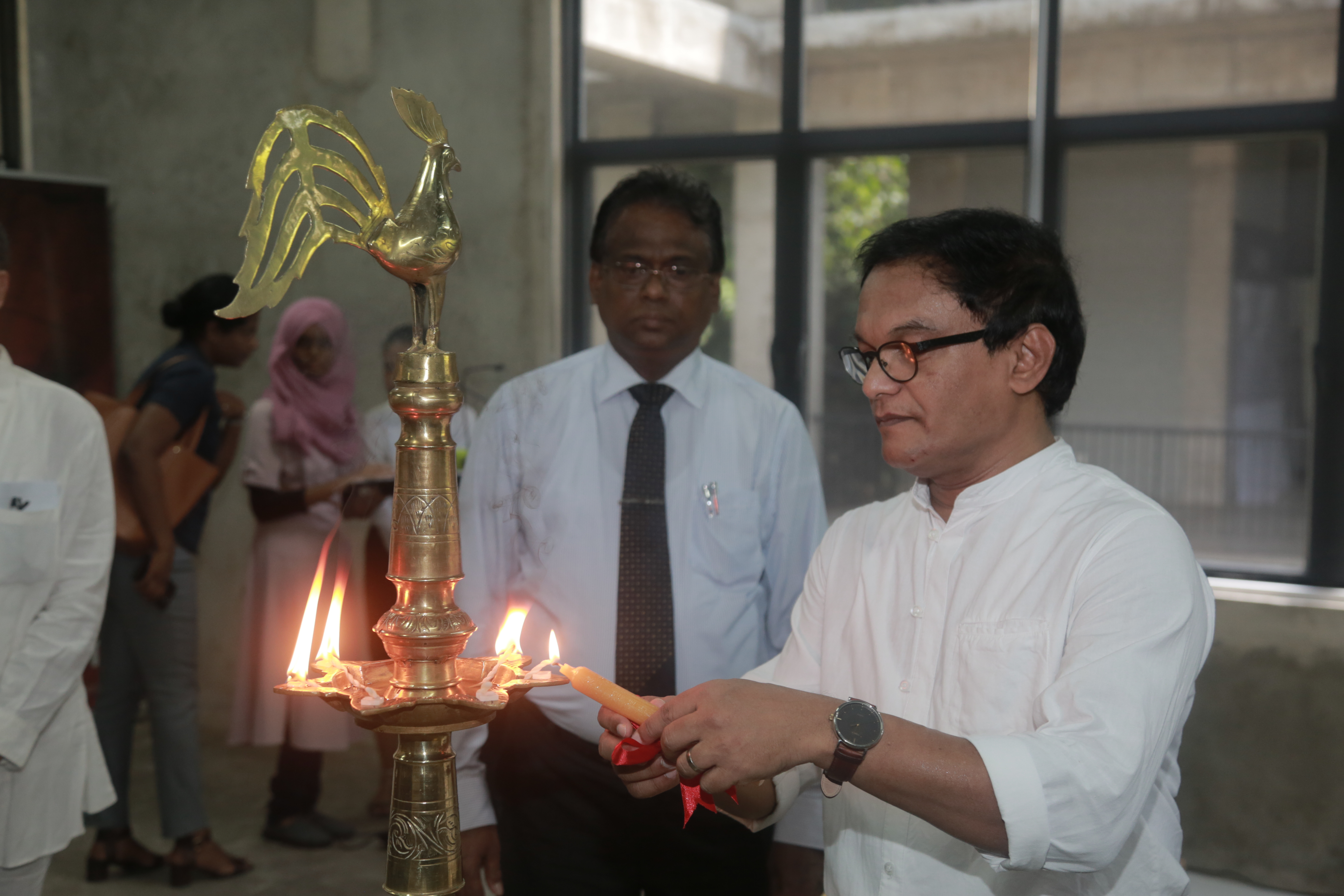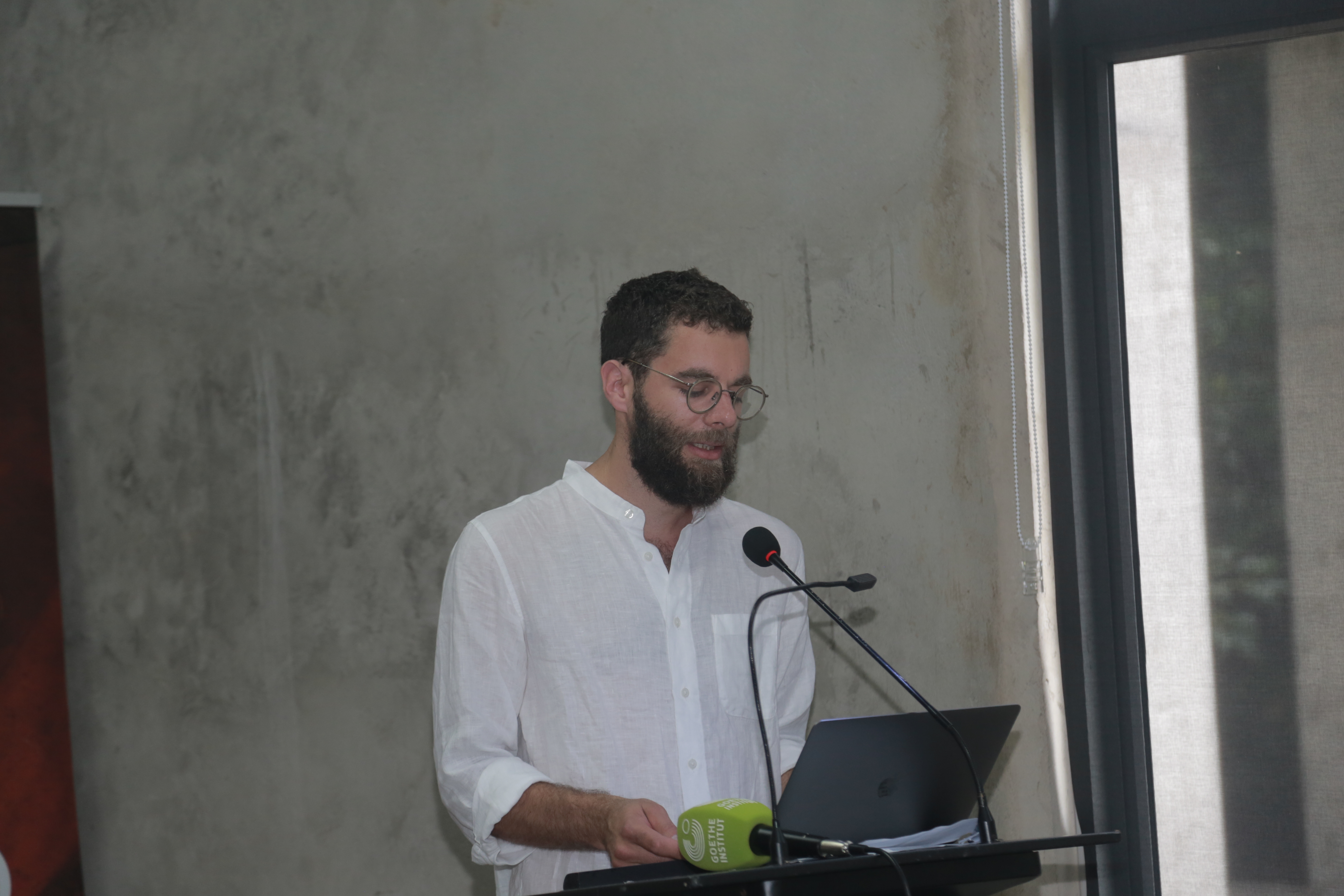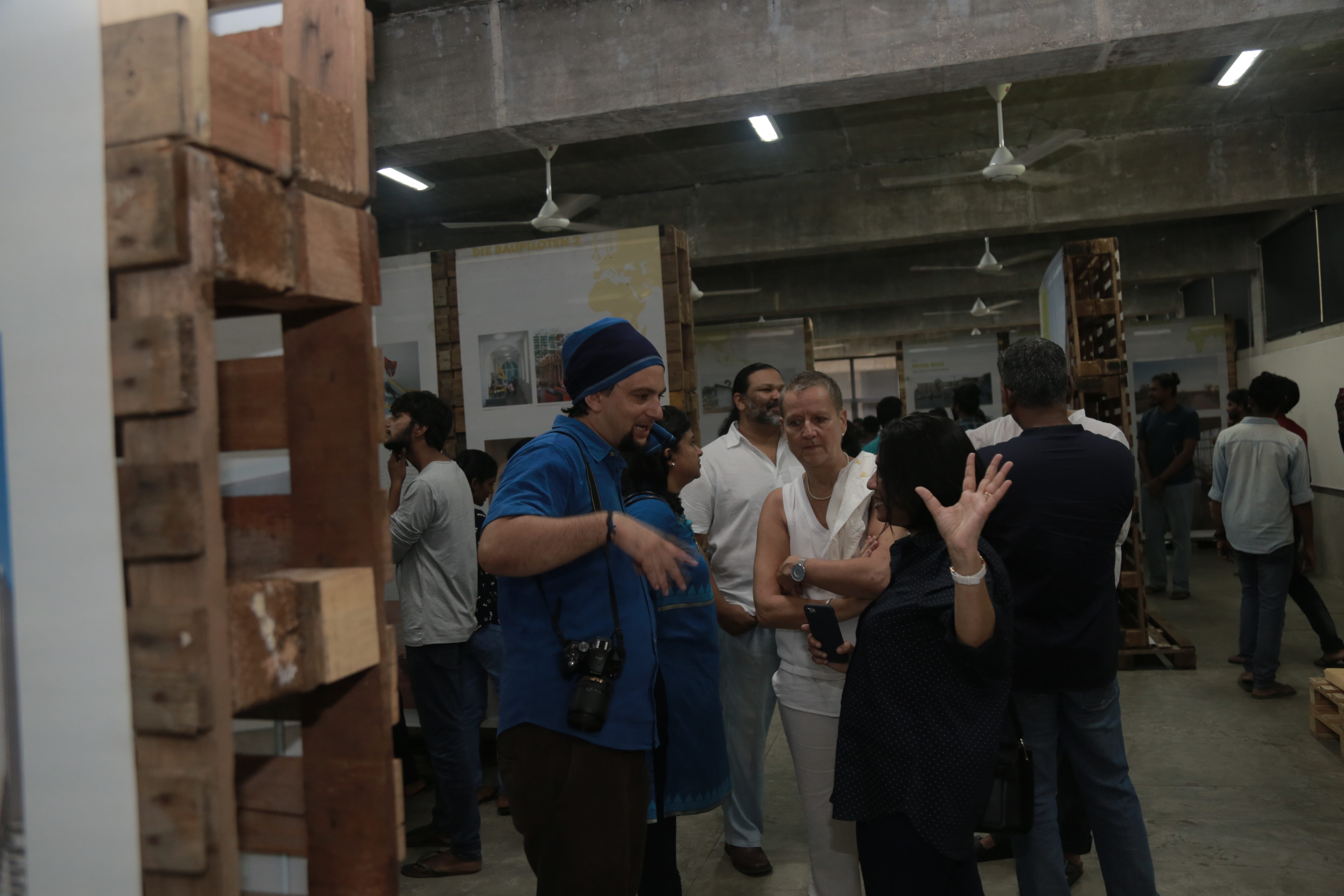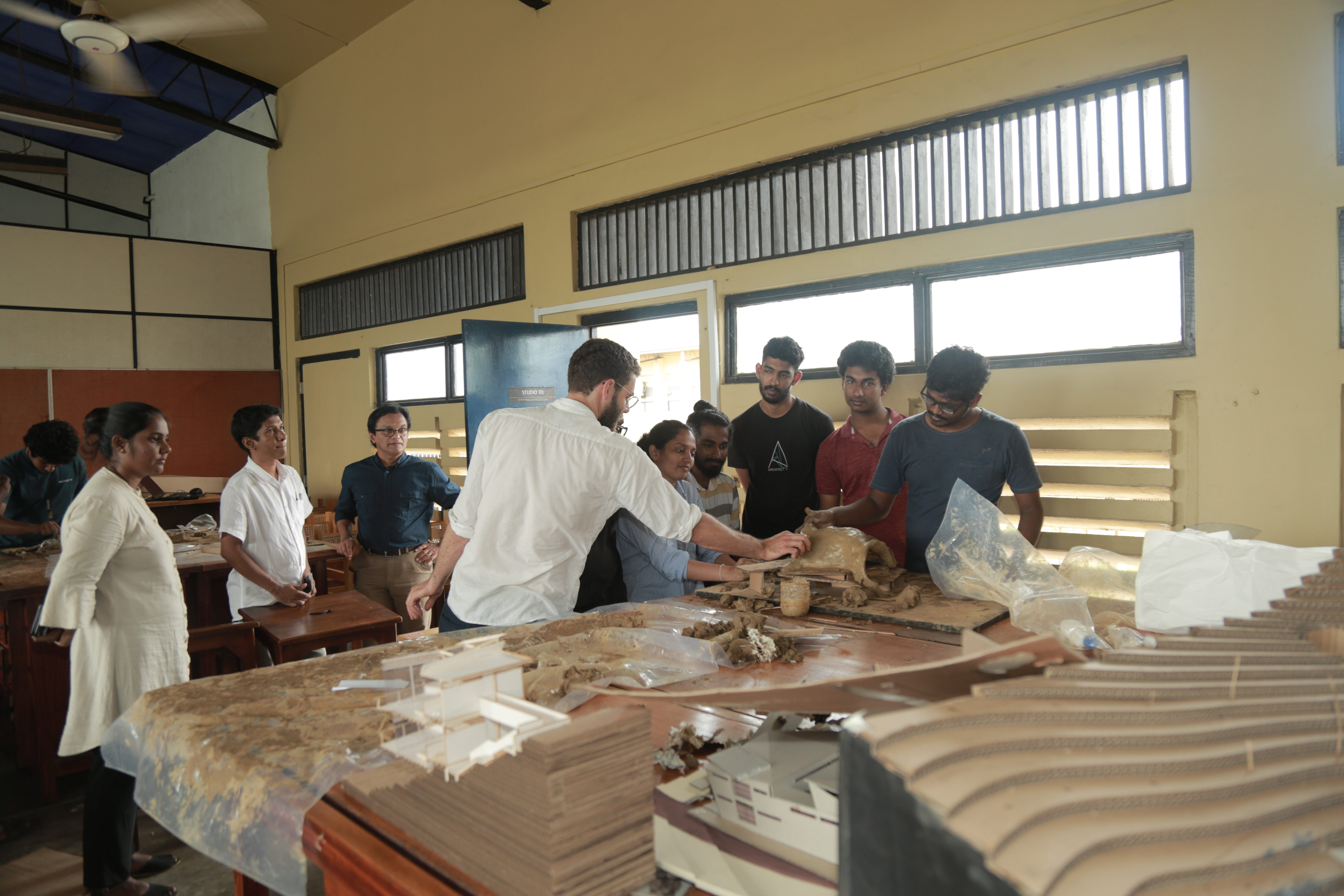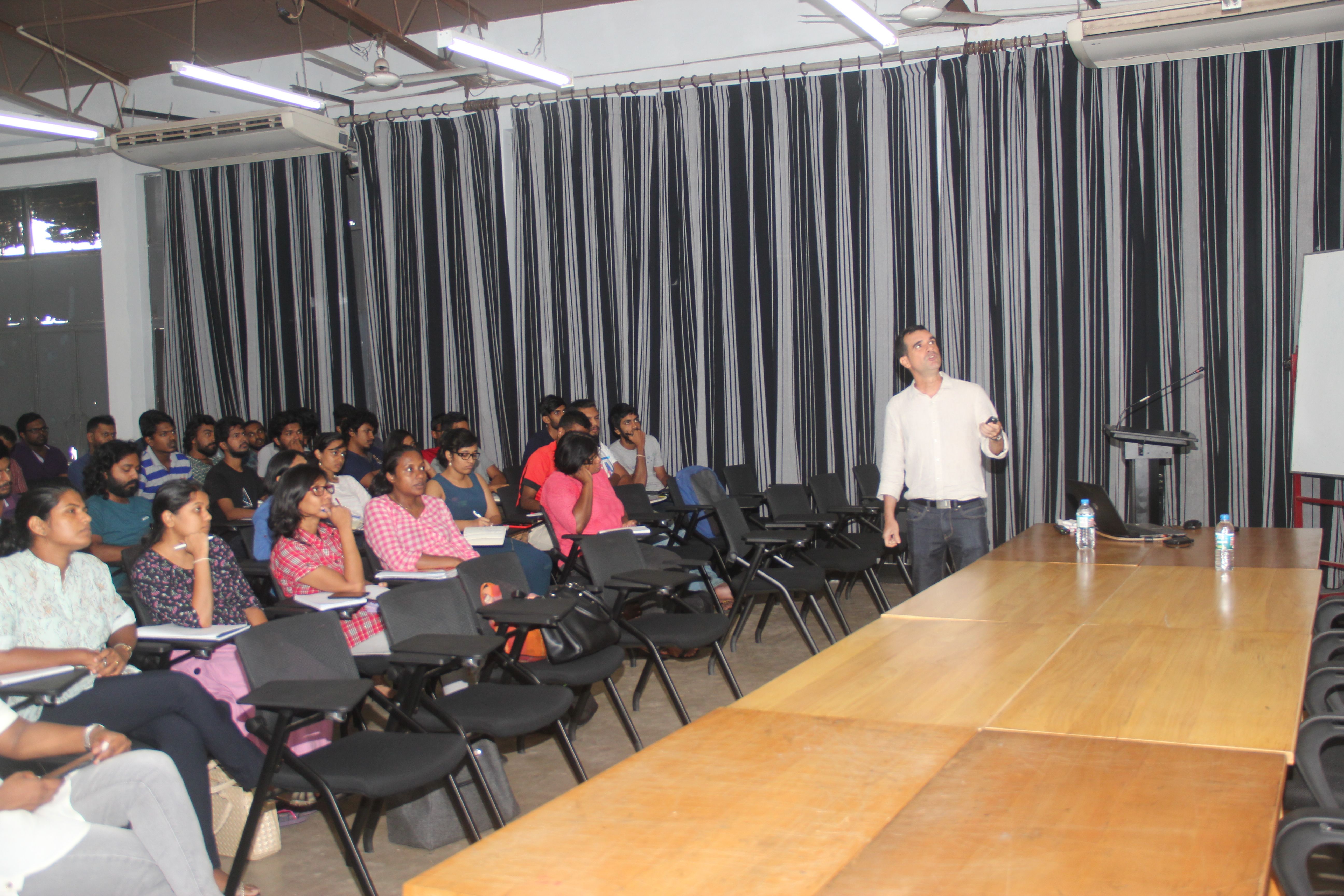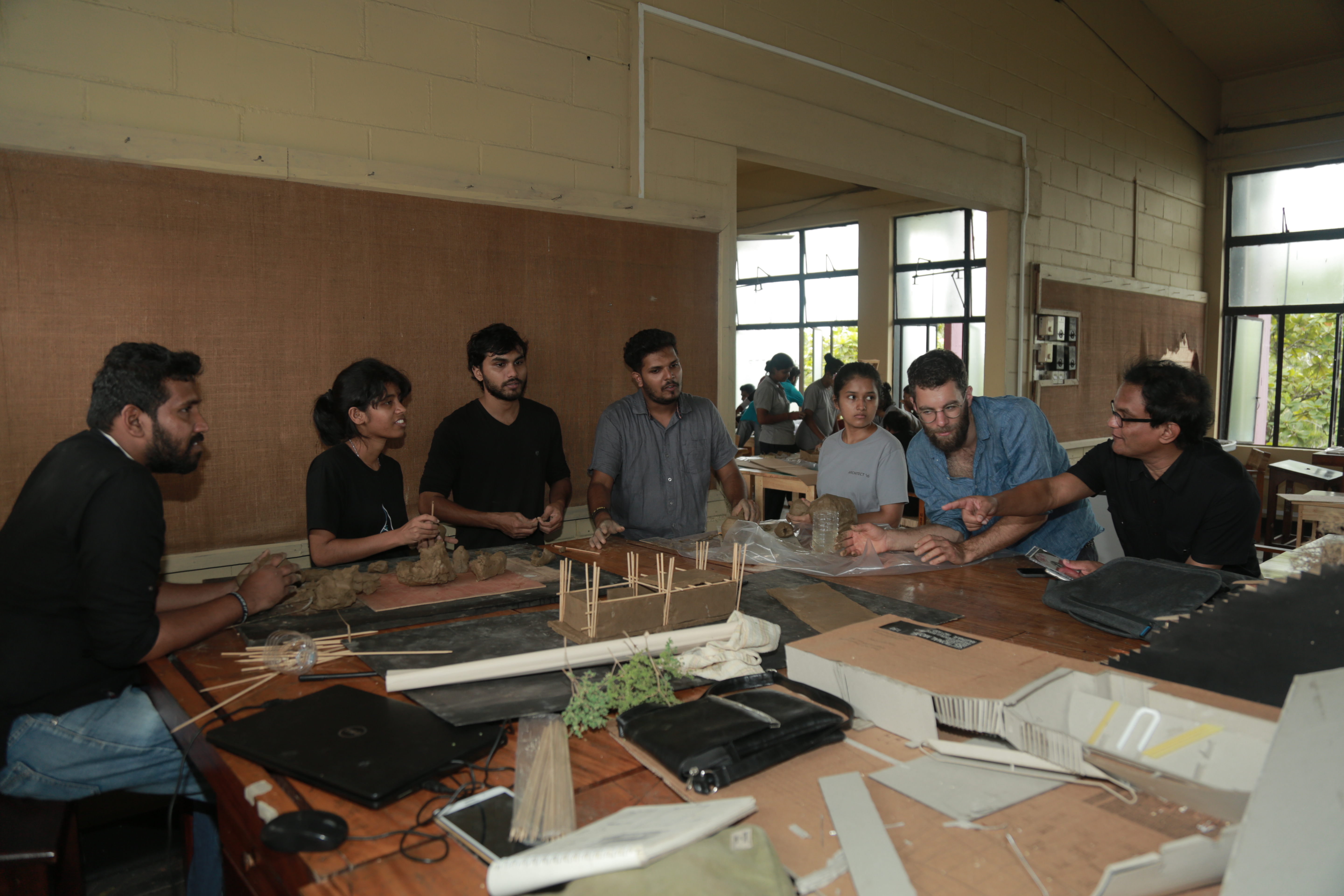 ---
JUXTAPOSED-Magazine launch on Major Design Project 2018 and Student Forum by B.Arch. 15' Batch
The magazine launched for the first time in the Department of Architecture- University of Moratuwa, displaying the student work in the level III- MDP (Major Design Project) is titled to be "Juxtaposed". The gist of the heading implies the evaluation of intangible design concepts and their realistic spatial outputs performed by each student under their individual projects. Students forum organized complimentarily to the magazine launch event is oriented on sophisticating fellow students on the expected output of an MDP in terms of design approaches, key requirements of conveying a design and presentation standards to be maintained in critique materials.

---
Arcnest students' design forum
Arcnest students' forum organizes student's design forums  in every two months with the guidance of head of the department Dr. Upendra Rajapaksha. This session's mainly focusing on highly commented students projects of previous years and it is conducting as an inspirational talks. Sessions are sponsored by different well established commercial brands in construction industry and that would initiate the fitting together between academia and the industry. 
---
Bachelor of Landscape Architecture Degree Programme : India – Sri Lanka Foundation / Visiting Academic Prof. Suchandra Bardhan, Professor, Department of Architecture, Jadavpur University, Kolkata, India
Professor Suchandra Bardhan, Professor Department of Architecture,  Jadavpur University, Kolkata, India spent two weeks from 25th June – 7th July 2018 at the Department of Architecture, University of Moratuwa, assisting in the teaching programme of Bachelor of Landscape Architecture with a series of workshops lectures and discussions for all four Levels of the study programme.
Prof. Bardhan was also part of the BLA programme in 2014 when she concluded a very successful academic visit sponsored once again by India  – Sri Lanka Foundation.