School without classrooms | Sri Lanka 
Pasindu Kithmina l 2017
The world is moving out from the contemporary classroom model to new designs of classrooms, which blur the boundaries of interior and exterior. Research has shown huge impacts of informal experiences outside of school, on motivation and achievement for learning, which are not achieved through the prevailing system.
In adopting those models directly in Sri Lankan context, we have to face
difficulties due to the lack of resources, infrastructure and the society's ability to
accept such a drastic change at once.
The design suggests a new way of exposing students to outside world, making the maximum use of limited infrastructure and resources.
The design program is a camping & travel based outbound training. Students; as groups, will be taken to specified locations on a train journey; where they will be guided through a set of learning objectives specific to each site.
The learning objectives of each site are pre-determined considering what specific knowledge students can gain from each area, with relevant to the school curriculum
1.Each site has a "Docking Station" designed to halt the train at the time of stay. (Abandoned rail tracks and looped tracks are used).
The docking station contains
-necessary educational spaces, in order to achieve learning objectives (unique    to the site)
-service spaces (common to each site)
2.The main living pods of the students are designed inside reused old railway carriages where they will stay/camp/travel for the entire period of the program.
The train when halted at docking stations will convert to living campers.
The journey from one site to another; too is considered a learning activity. Living in a camper makes the learning process more interesting and memorable. The knowledge, which is intended to acquire does not limit to what is in the curriculum. It intends the students to learn many other life skills as well.
Widespread railway network through the country has been taken as an advantage in the design. In addition, a train journey covers many facades of knowledge; economic, social, geographical and cultural cross-sections of the country.
This school program can function as a common facility for all students of the country, where maximum number of students are benefited, rather developing a single school. 
Also it has ample provision for expansion, by increasing number of docking stations (sites) and number of trains.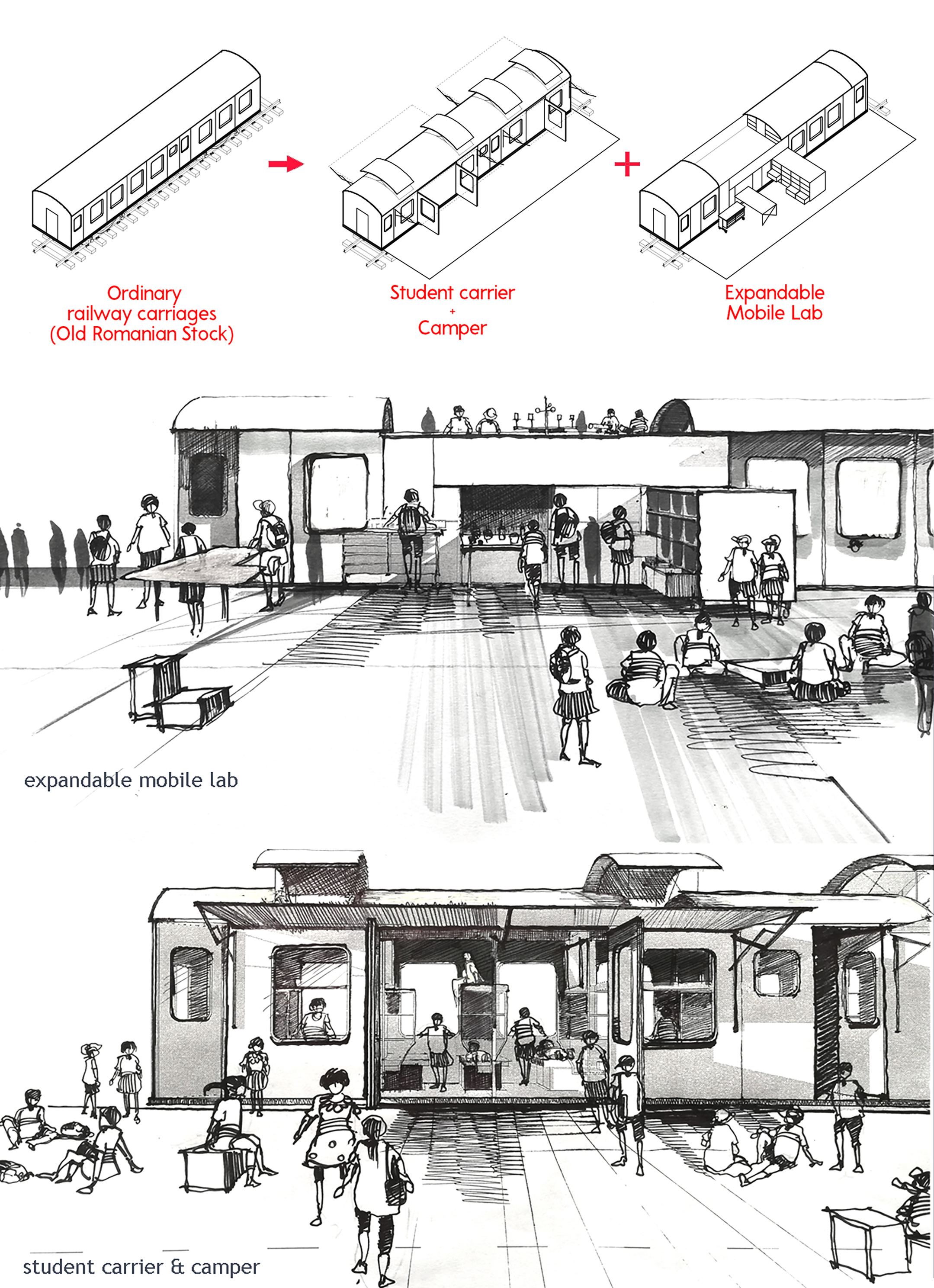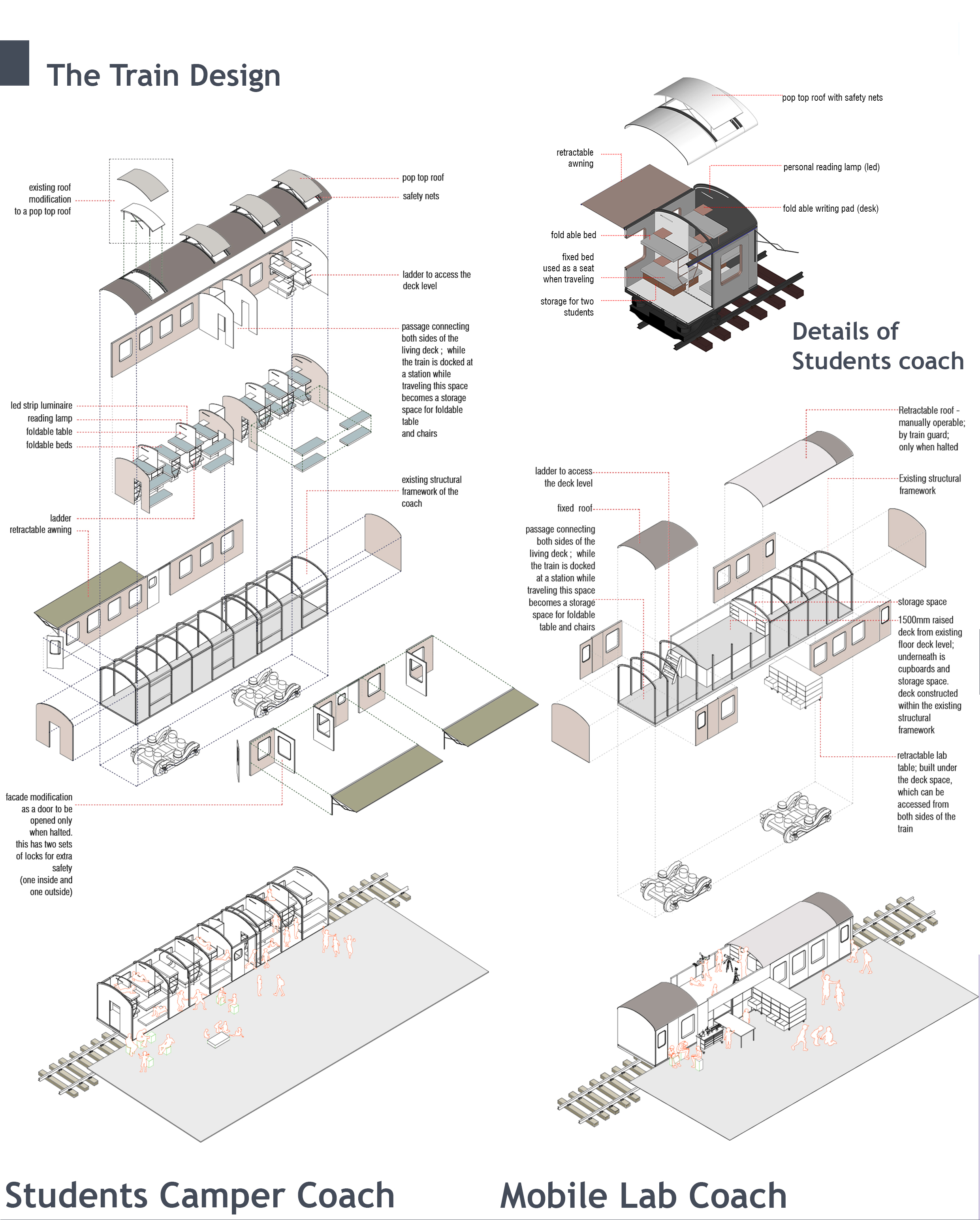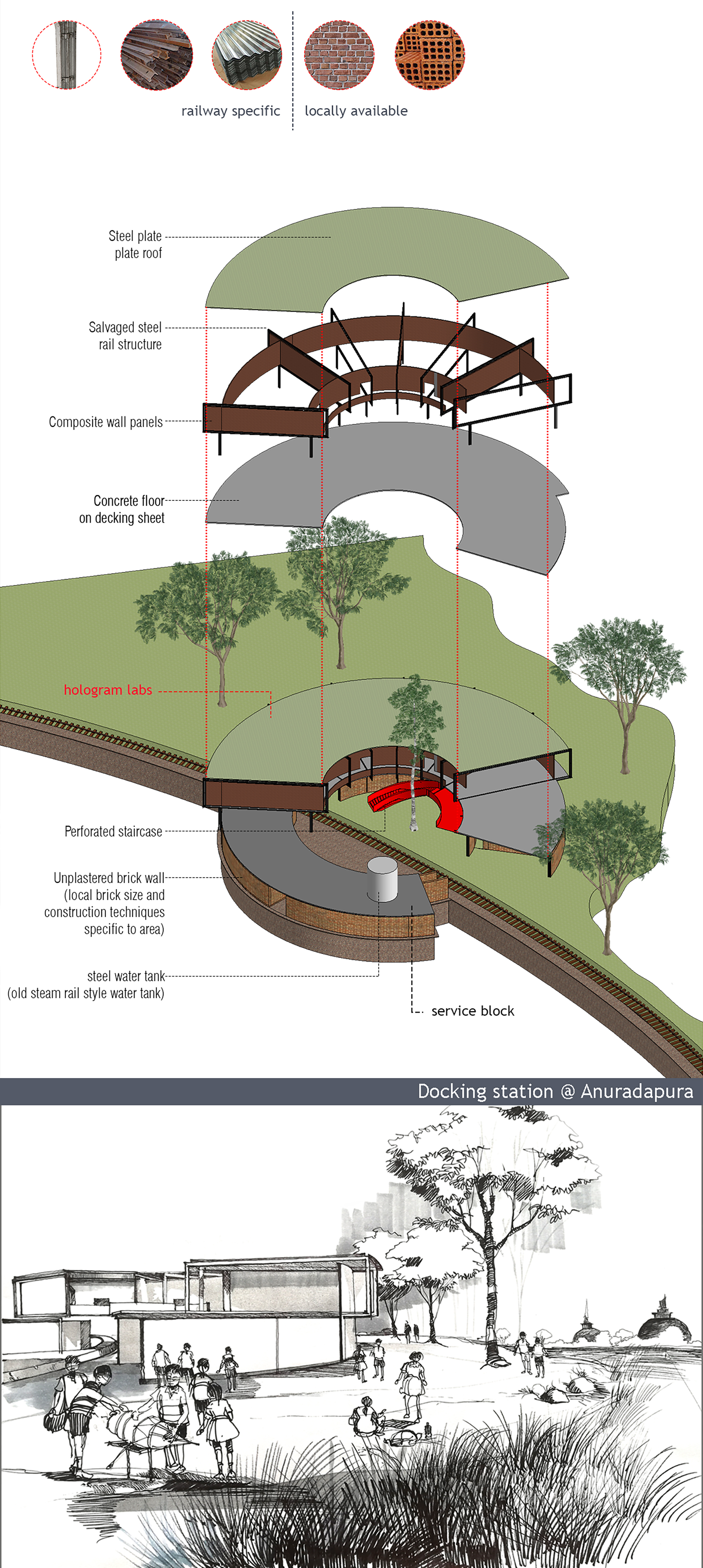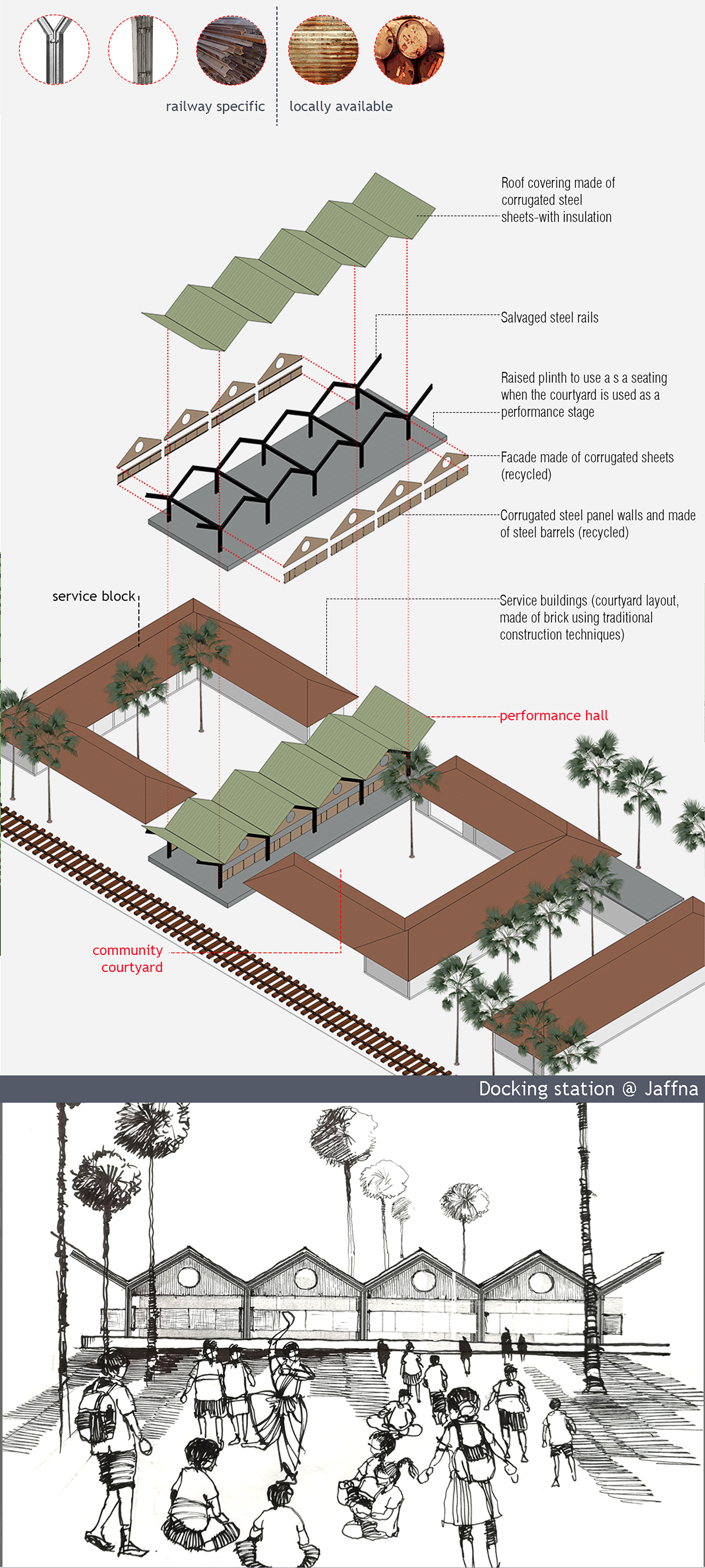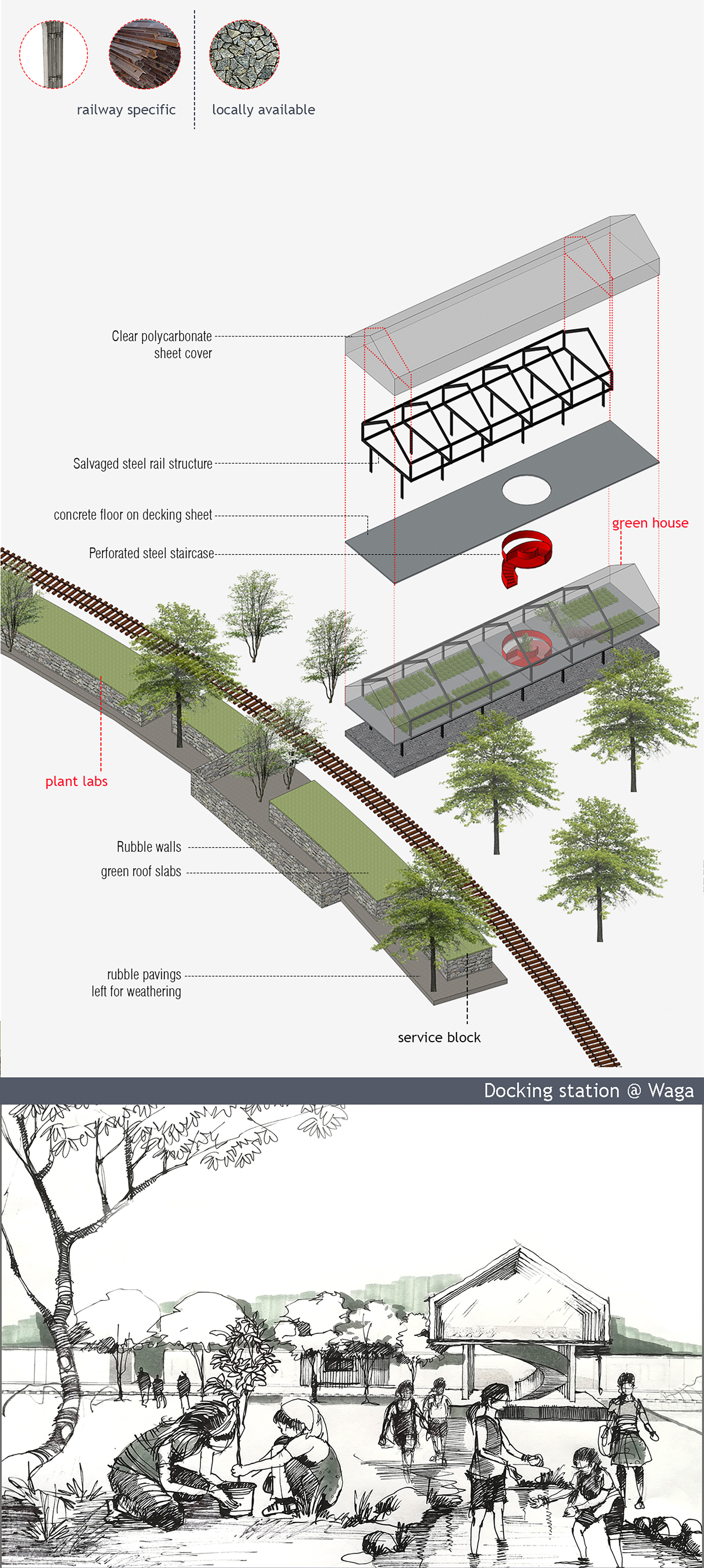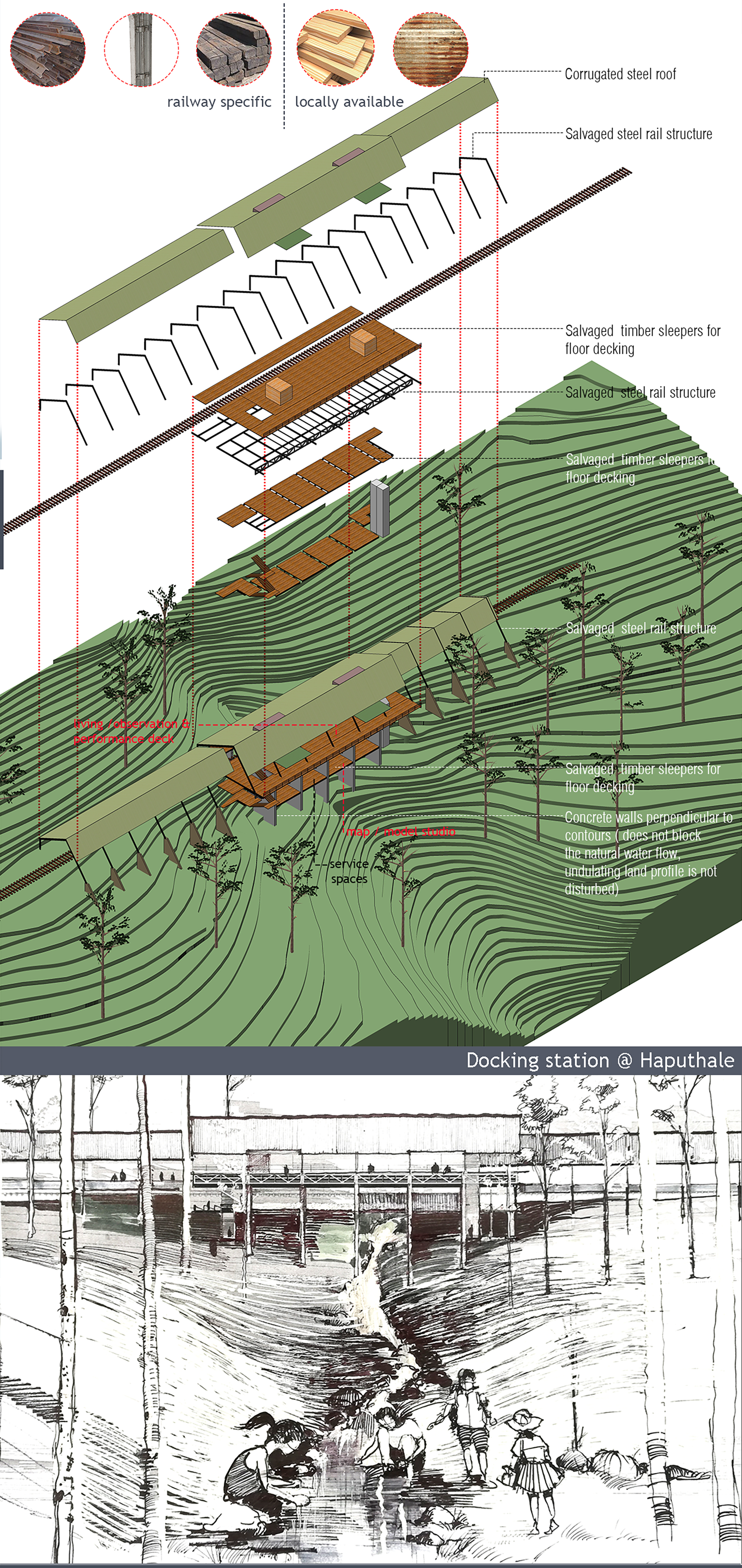 Experimental Theatre | A Reconciliation in North, Sri Lanka
Gayathmi Hettiarchchi l 2016
This project attempts to explore the contribution of "an experimental theatre" as a solution to a complex, timely and an extremely sensitive social problem, socio-ethnic segregation of North & South, Sri Lanka.
Communities in the war affected regions in Northern Sri Lanka area were segregated from the rest and unfortunately in an ethnic isolation with a negative a mind-set. The nations itself, along with several international bodies, is seeking new and sensitive approaches for reconciliation and positive social change.
In this context, how this idea of an experimental theatre can contribute to bridge the gap between north and south is examined through a building program. "A theater for social change" is well-founded in research and practice, owing much to Augusto Boal's Forum Theatre techniques.
The project further attempts to experiment on the "theater" as a medium to extend the reconciliation process to the grass root level while experimenting the utilization of a performance space in two dimensions as a fixed space and a mobile space.
Mobile theater installation is designed to travel to popular public places in the region such as "Kovil" premises or local school playgrounds whilst the fixed spatial facilities including a residential drama school is proposed at Kilinochchi town center in progressive, phased development.
The architecture of this project was generated through seven strategies and principles followed by them, that was derived in the problem solving process.
Phasing of the project was not essentially constructional but as a method of community involvement with the agenda of this initiative as much as possible.
'Where Drama is performed, there springs a 'Rangabhoomi' 
Janakaraliya - Makkal Kalari - Theatre of the People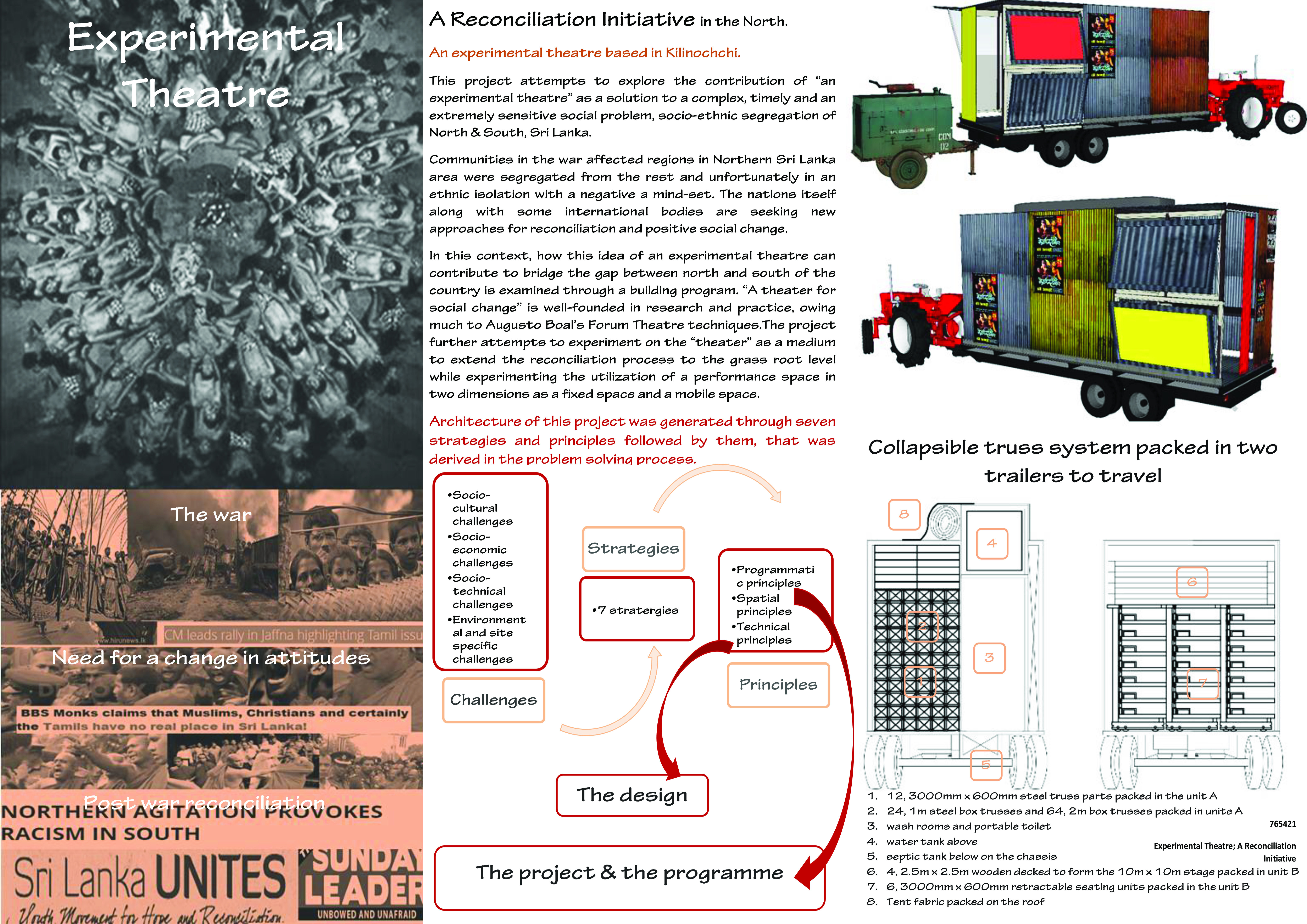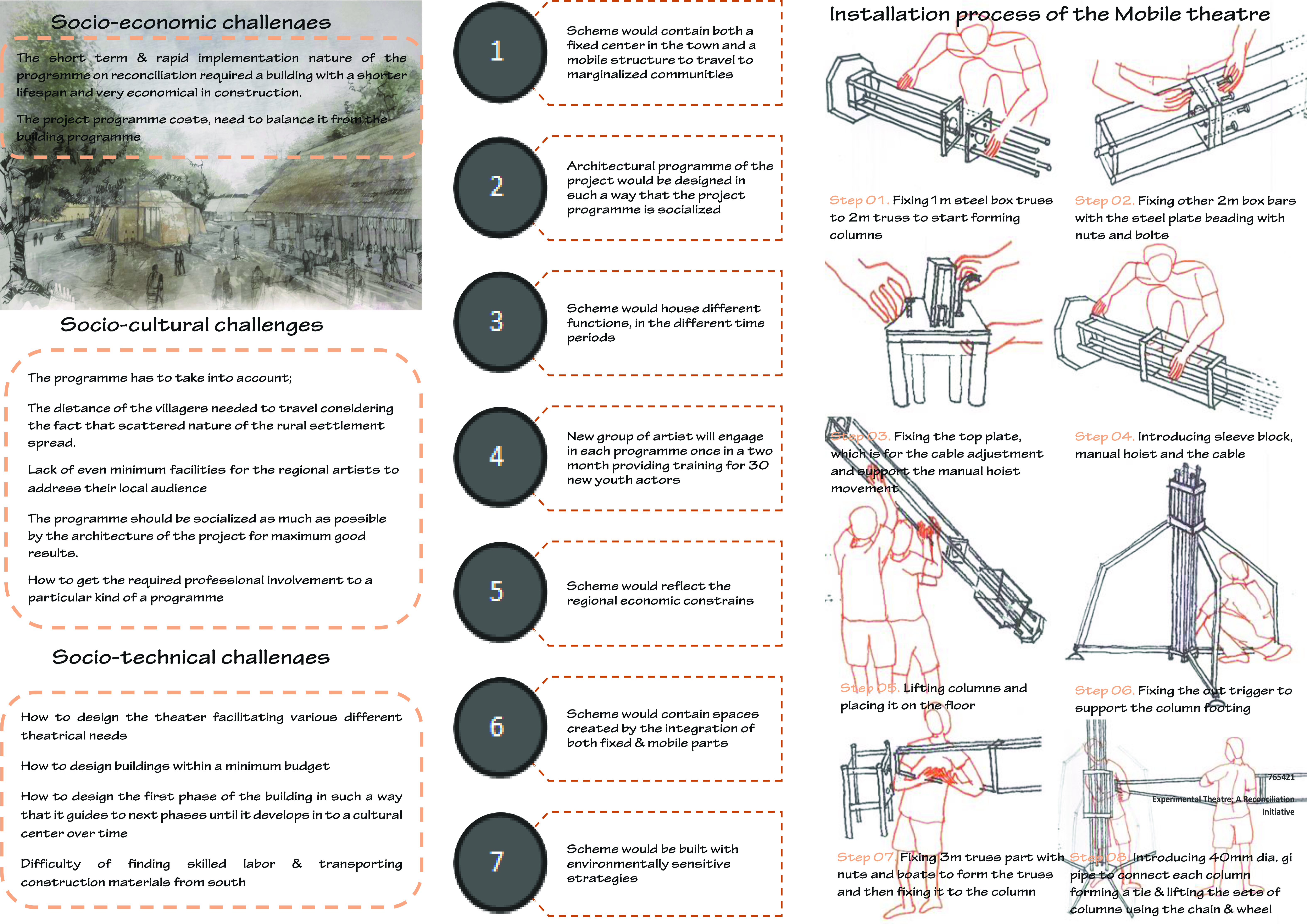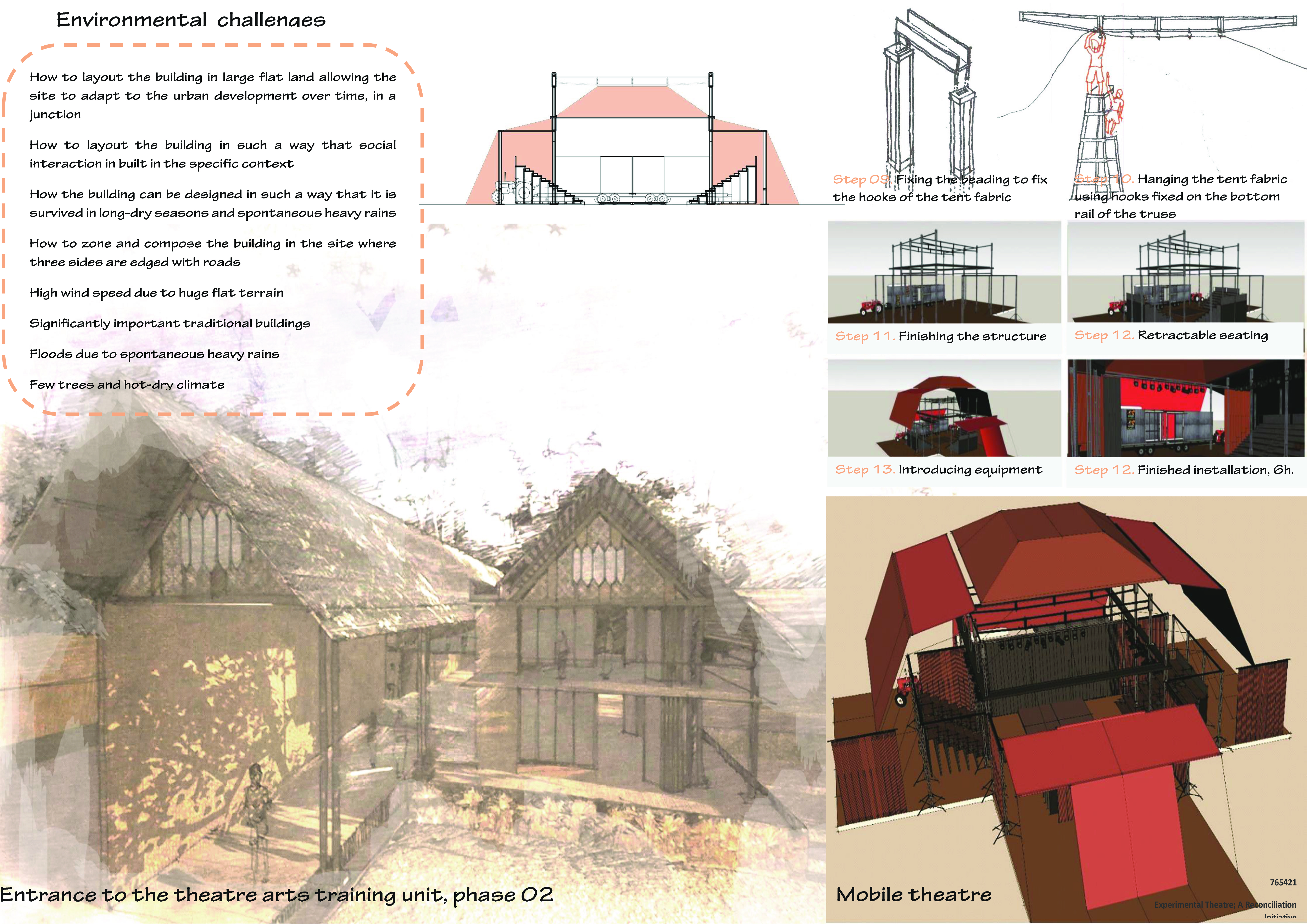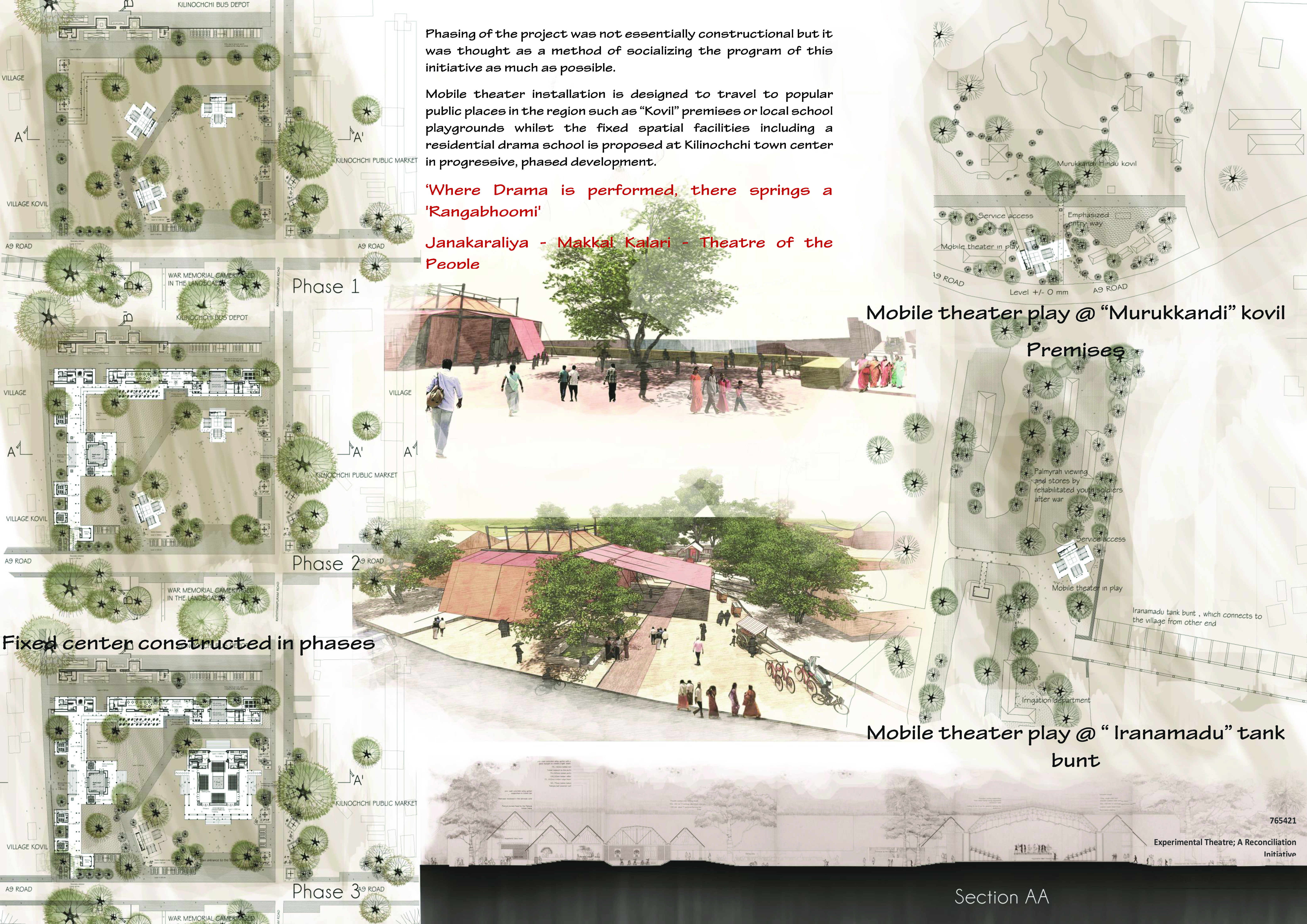 Resilient Resettlement: Post Disaster Reconstruction| Poonagala,Sri Lanka 
For the Plantation Community Displaced due to Meeriyabedda Landslide
Yashodhara Ranasinghe l 2015
October 2014 a huge landslide struck Sri Lanka in the district of Badulla (a hilly region), killing and leaving people missing forever. This lead to a whole line house community to flushed away and buried at dawn while some were still sleeping, and it became Sri Lanka's second largest natural disaster (first Tsunami) within recent history. Meeriyabedda, the tea estate disappeared from the geographical map and people who displaced were retained in schools as temporary camps.  They still are in the same places as there is no other place to go and no resettlement plans as well. Government is now planning for a resettlement program for these people and to launch it in a massive scale throughout the whole tea estate labor sector.
Responding to all above issues, this project is a 'resettlement program' for the line house community who displaced due to landslide. This project to be launched as a time concern, low cost building system as a proper solution for areas where there is landslide vulnerability and at the same time support the native communal values of the community to familiarize and move forward with the new site and the system.
The project is restricted/ challenged with its environmental context, social and cultural context, economical context and technological context. In order to tackle the challenges, the project was manipulated based upon two considerations which are Generic and Specific implementation of problem solving process.
With the relocation plan (as the existing site is not safe enough) the idea is to reinterpret the village as a self-sustain community. The zoning was done with certain inspirations of the destroyed community and project was done in two parts. Part one is housing clusters with regional material (available and discarded), simple, regional and low scale technology and the available unskilled labor force. The part two is develop the village center with some important facility buildings manipulating the same systems into a larger scale.
The design was approached in two parallel ways,
As a landslide mitigation proposal - Project specific bottom up principles for landslide prone area were derived by referring hillside guidelines, landslide prone area guidelines and special guidelines for Meeriyabedda. The total scheme, building system, structure and materiality were inspired by these 'technical principles'.

Technical Principles

(ref. - Guidelines developed and issued by NBRO (National Building Research Organization) and UDA (Urban Development Authority), general data, landslide research data)
Plantation community as specific social category - The overall layout, spatial planning and small scale details

inspired from different plantation settlements

(User comfortable Physical setup).

Spatial Principles

(personal analysis)
(Technical and spatial principles appear in the panel as a graphic)
The whole scheme would not be built at one time. But it would be grown gradually. All the possible details, growth restrictions are specified in the project and they are very tolerance to unskilled labor errors. Even though one housing prototype is introduced, since there are more than 300 horizontal and vertical growth options, at the end within the scheme the houses would differed one to another as the user requirement of growing pattern, preferences of detailing and affordability differs from each other.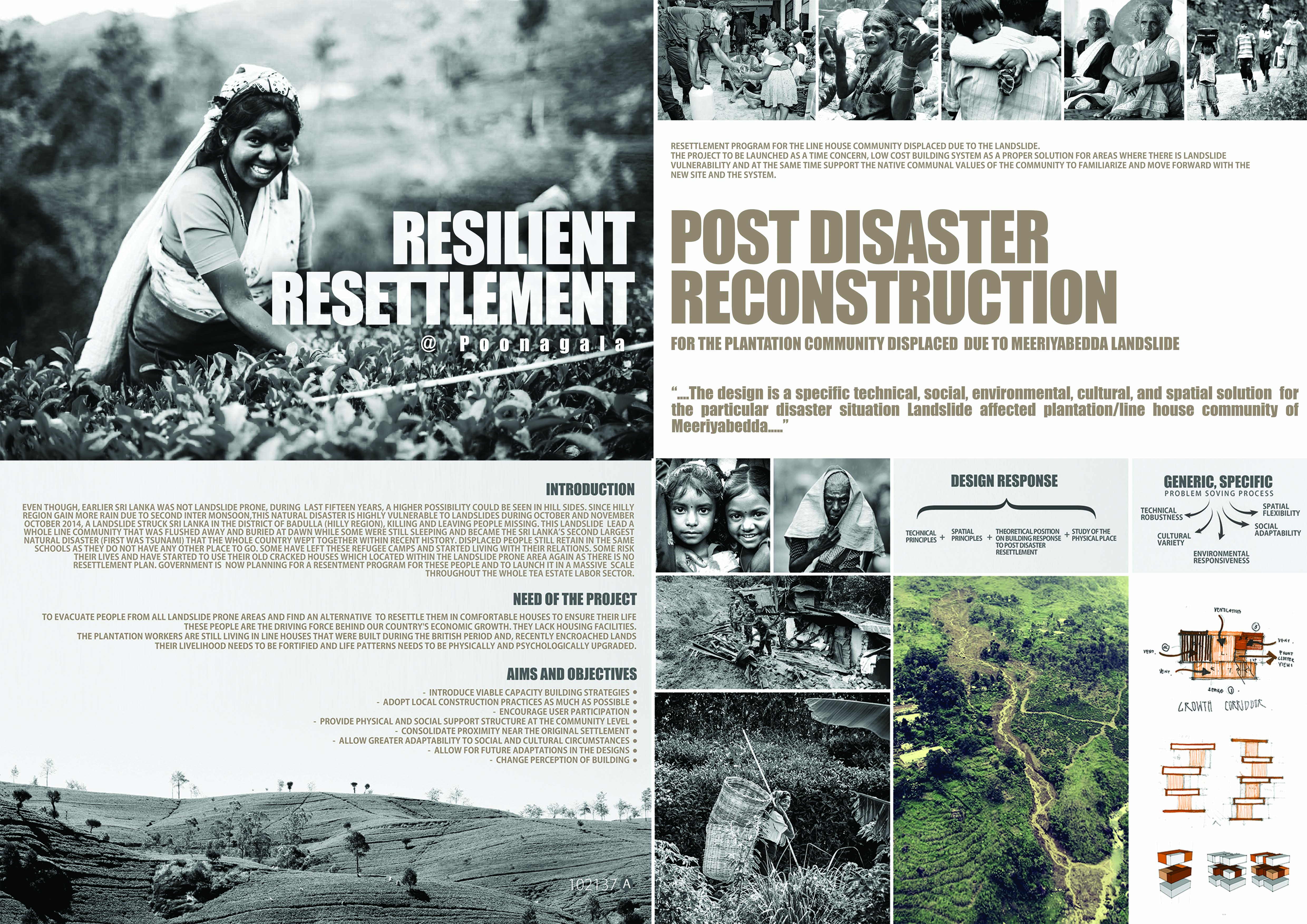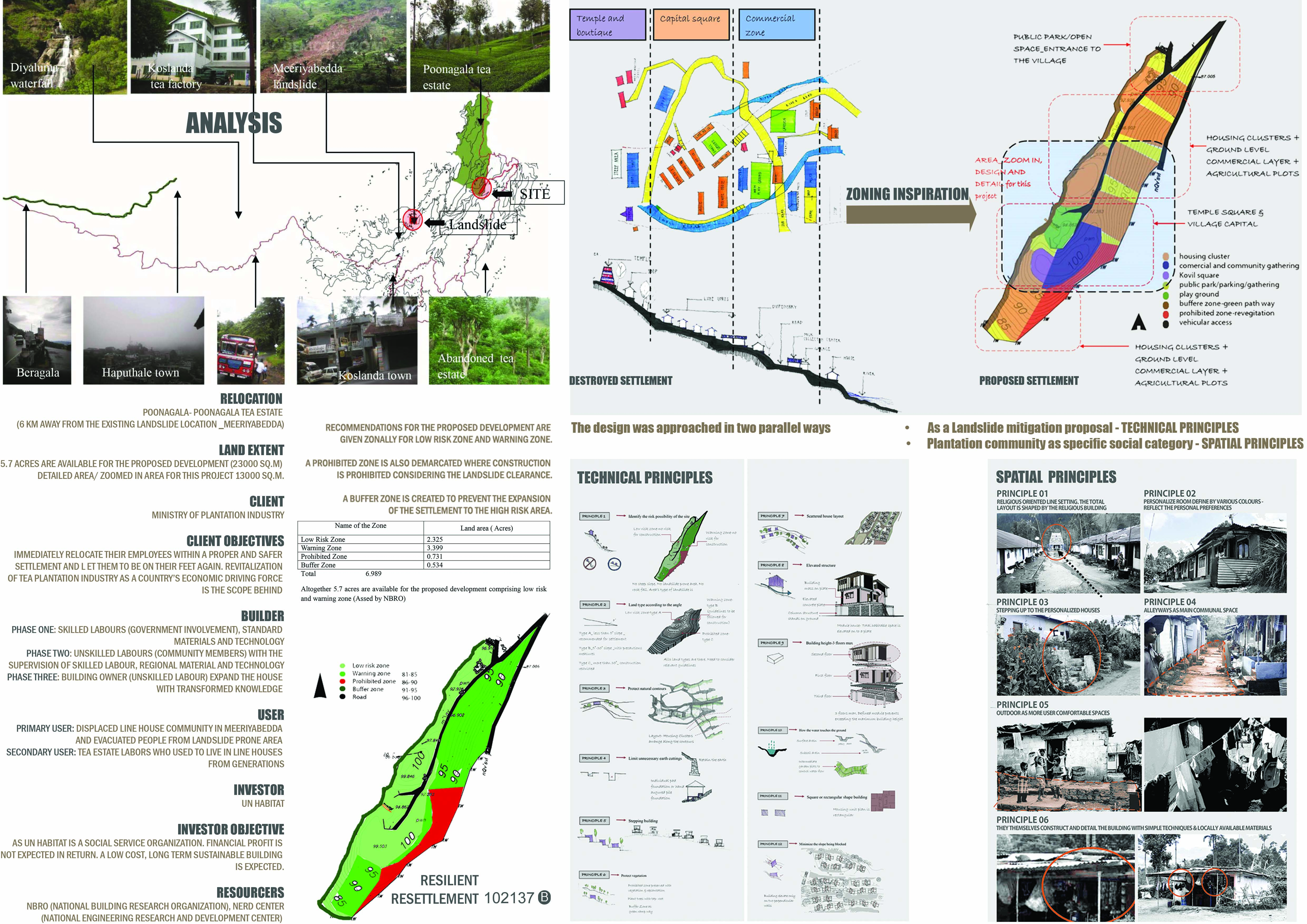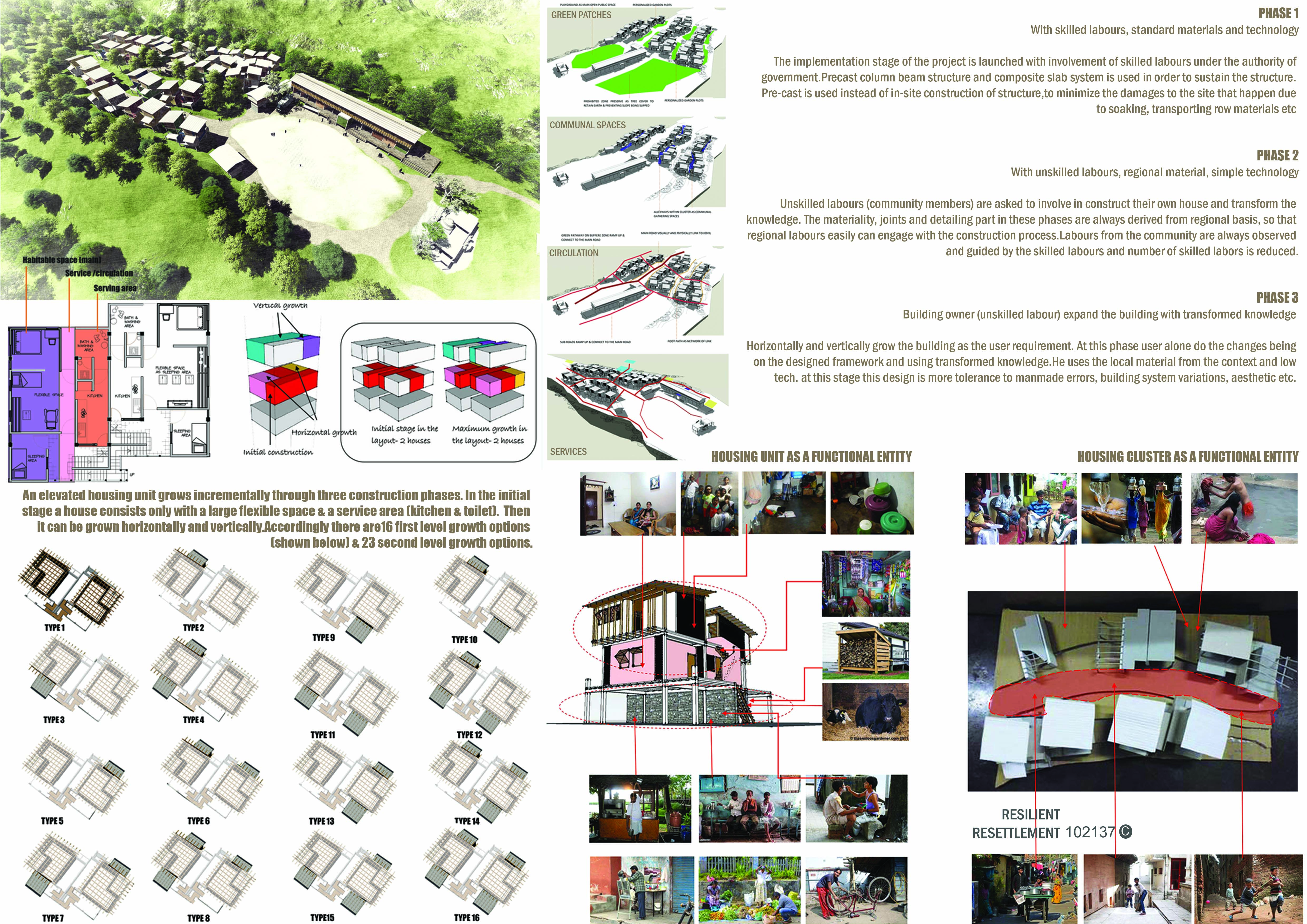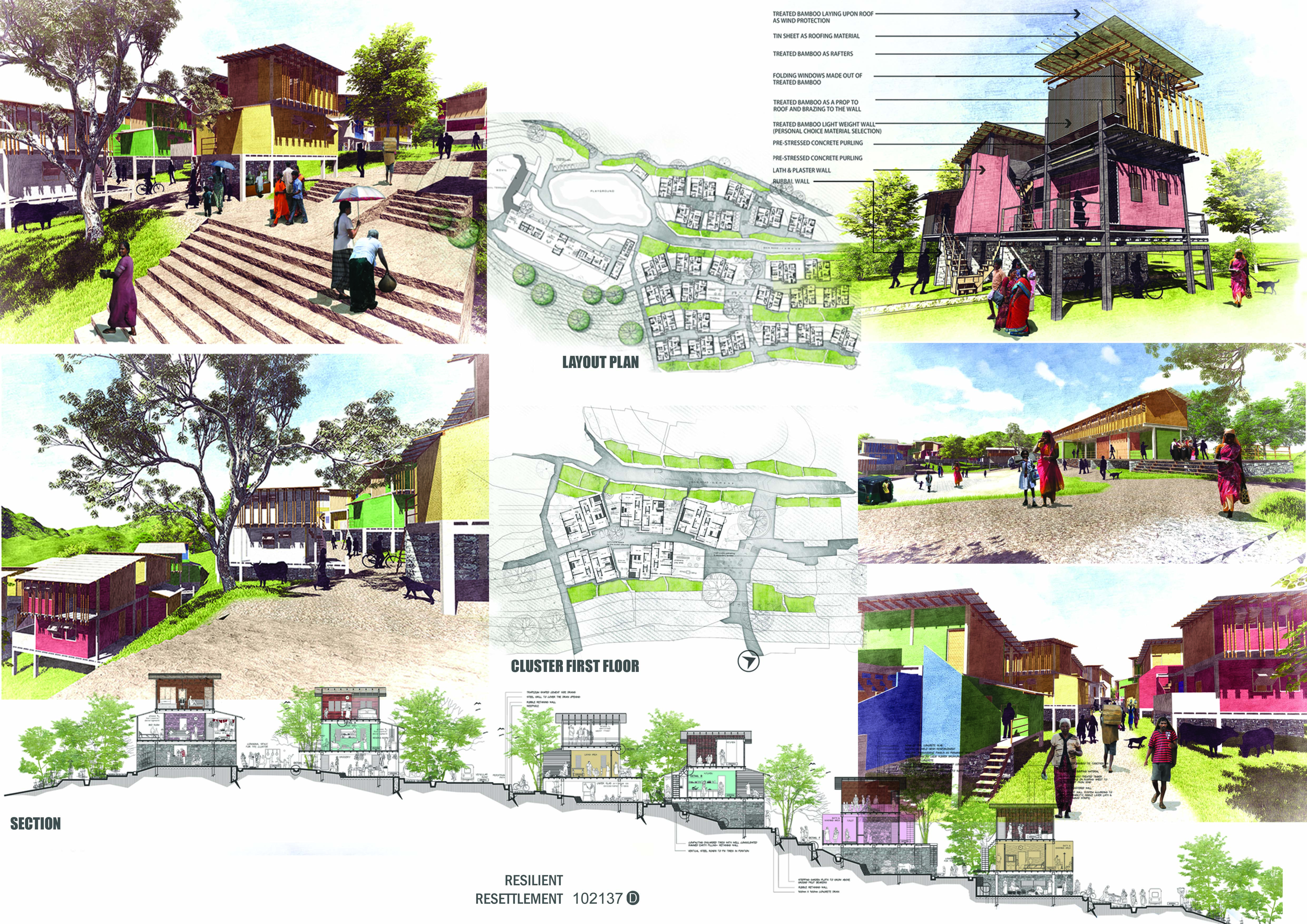 Student Housing and Facilities for University of Colombo
Rizna Aroos l 2012

As the University of Colombo lies in the heart of a high end residential zone, the students face a huge dilemma concerning their accommodation and lifestyle. Thus a Student Housing as an Urban Catalyst is introduced. 

This is an attempt to incite the activities and academics of the students by reinforcing their lifestyle. 
The criterion for the university life is understood and a vibrant atmosphere of student based culture is set up addressing a comprehensive master plan and a comprehensive housing plan.The architecture is manipulated to stimulate the activities of the students and thus making it a good surrounding for the students. Thus, this project would be a catalyst in reviving the living criterions of the nieghbourhood.