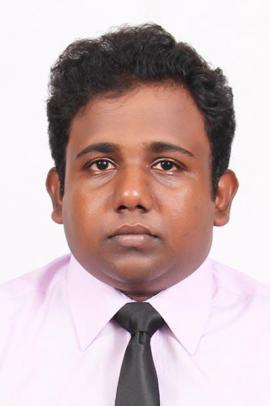 Department of Electrical Engineering
Programmer cum System Analyst
Research Interests
Key Research Areas
Industrial Automation
Mechatronics
IoT
Cyber Security
Smart Grid
Ongoing Research
Design and development of a real-time cyber physical system testbed for power system security and power routing
Design and development of a reconfigurable architecture for solar photovoltaic microgrid
Publications
​​​​​​M. K. S. Boralessa, W. Eranga, T. Senarathna, H. Priyadarshana, and K. Hemapala, "Developing a three phase z source inverter model and simulating the bidirectional functionality," in 2019 IEEE R10 Humanitarian Technology Conference (R10-HTC)(47129). IEEE, 2019, pp. 144–148.
WLT. Peiris, WH. Eranga, KTMU. Hemapala, and WD. Prasad, "An adaptive protection scheme for small scale microgrids based on fault current level," in 2018 2nd International Conference On Electrical Engineering (EECon). IEEE, 2018, pp. 64–70
DP. Colambage, WH. Eranga, KJ. Senaratne, HK. Vithanage, and HR. Perera, "Assessment of cost of unserved energy for sri lankan industries," in Electrical, Electronics, and Optimization Techniques (ICEEOT), International Conference on. IEEE, 2016, pp. 1644–1648.