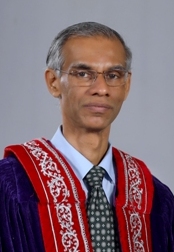 Professor NK Wickramarachchi, Dean Faculty of Engineering
The Faculty of Engineering is the largest faculty in the University of Moratuwa, comprising 12 academic departments with about 200 academic staff and around 4000 undergraduate and post-graduate students. The Faculty at present offers Bachelor of the Science of Engineering degree in 9 disciplines, Bachelor of Design degree in Fashion Design and Product Development and Bachelor of Science degree in Transport and Logistics Management.
Academic disciplines offered for the BSc Engineering degree include Chemical & Process Engineering, Civil Engineering, Computer Science & Engineering, Earth Resource Engineering, Electrical Engineering, Electronic & Telecommunication Engineering, Materials Science & Engineering, Mechanical Engineering and Textile & Apparel Engineering.
In addition, the Faculty offers many post-graduate courses and research degrees in various engineering and allied disciplines leading to Master of Science, Master of Engineering, Master of Philosophy, Master of Business Administration and Doctor of Philosophy.