Thank you for your interest in postgraduate studies at Department of Mathematics, University of Moratuwa.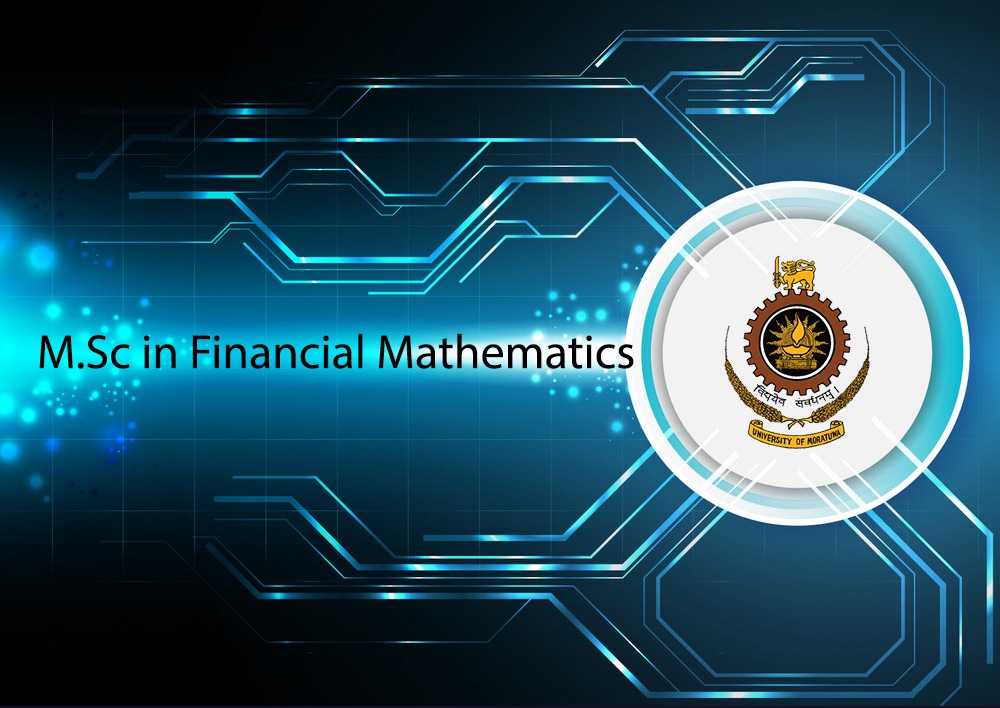 This postgraduate programme is specially designed for graduates in the managerial level who wish to build and advance their careers in the most fast-changing and challenging field of financial sector. More importantly participants should be able to transform real world financial problems into quantitative models (formulation), solve the models by applying statistics and operational research techniques (analysis) with the help of software and IT applications.
The course consists of four main areas:  Finance, Statistics, Operational Research, Mathematics, which are helpful for the financial analysis, decision making and product development.
Objectives
To introduce participants to the new financial world with options, forward, derivative markets.

To fulfill the financial concept knowledge gap of science and engineering graduates.

To fulfill the statistical/ mathematical knowledge gap of the other graduates.

To give the application knowledge of decision making using statistical/ mathematical theory in the field of finance.
Significant of the Degree Programme
The first master's degree programme in Sri Lanka in Financial Mathematics.

Degree is offered by Department of Mathematics, Faculty of Engineering, University of Moratuwa, Leading Technical University in Sri Lanka convey world class recognition to it graduate.

Degree program is design from fundamental theories to complex real-world applications, thus any candidate who fulfil the minimum requirement of eligibility could successfully complete the programme irrespective of prior knowledge on statistics and financial with passion and dedication.

Highly focus on real world application with necessary theoretical concept.

Flexible assessment criteria and evenly distributed course workload which enable the graduate balancing their academic and professional works

.
Main Study Areas

Financial Mathematics

Actuarial Statistics

Quantitative Techniques

Decision Theory

Game Theory

Corporate Finance

Financial Data Analysis

Economics for Finance

Introduction to Marketing Management Information system

Multivariate Data Analysis

R programming language for statistical computing

For more details: Course Detail and Syllabus
Duration

MSc in Financial Mathematics: Two years part-time on Sundays

Early Exit - PG Diploma in Financial Mathematics: 18 months part-time

(The duration may vary due to unexpected interruptions)
Programme Structure

                            For more details: Course Detail and Syllabus
Eligibility Requirements

An Honors Bachelor's Degree of the University of Moratuwa; OR

Any other relevant special degree approved by the Senate, OR

The degree of the Bachelor of Science of a university with Mathematics, Statistics, or Computer Science as core subjects, with a minimum of one year of experience, as approved by the Senate; OR

The professional membership of a professional institution in a relevant field and a minimum of one year of experience after obtaining a such membership approved by the Senate.
Course Fee

The fee for the MSc/ PG Diploma in Financial Mathematics course would be Rs. 300,000/-, which could be paid in three instalments with an initial upfront fee of Rs. 154,500 at registration. This fee includes examination/ registration fee of 2000/- and a refundable deposit of Rs. 2500/-, which is charged for the use of the university library. The remaining installments should be paid as follows.

Installment 2: Rs. 75,000/- after three months of the registration

Installment 3: Rs. 75,000/- after six months of the registration
How to apply

Please refer the Paper Advertisement for more information regarding the deadline

Application can be submitted through online

Applications for Intake 2022 / 2023 Deadline 30-Jun-2022 - Apply Now...!!!

   Apply Now  

OR

Email at  cc-msc-fm@uom.lk  with the following documents

Printed application  

Application Form in PDF  or  Application Form in Word 

Payment Slip (application fee )

Certified copies of your Degree Certificates and other qualification certificates

Certified copy of your Birth Certificate and NIC

Application Fee -  Rs. 1000/- for Bank of Ceylon, Katubedda, A/C No, 70993353
Enquiries
Past Papers