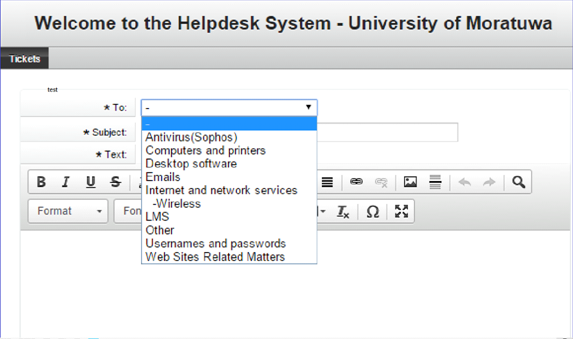 IT help desk promotes a ticketing system to submit all the queries. All the registered users in Academic, Academic support, Administrative, Technical and Non-Academic staffs and Students can access the system by authenticating through the University E-mail username and Password via;
We categorize following are the most often issues that hang-up with above users.
Usernames and passwords
Reset your LearnOrg password both Staffs and Students.
Internet and network services
Issues related to the University IT Infrastructure which includes administration of university network backbone, general server administration and maintenance of common computing facilities
Antivirus (Sophos)
We recommend, all the university PCs and Laptops should be installed the Sophos Antivirus.
Emails
Create the Staff Email addresses and troubleshoot the mail client issues.
Desktop Software
Issuing ArcGis Software Licenses for students, MS Office and Windows Operating Systems Licenses for Staffs
Wireless
We have located 25 Wi-Fi access points around the common places in the university. (Library, Canteens, etc). When you have any log in issues related to Wi-Fi
Website Related Issues
Any Faculties, Departments wise security issues (Hacking, etc) that related to Web Sites.
LMS 
LearnOrg Password reset for the Students and LMS related Issues.
Computers and Printers
Basic University Hardware issues that related to Computers and Printers.