University of Moratuwa is a reputed pioneer in technological innovations and advanced technological
implementations in Sri Lanka. The latest addition to the long record of innovations by University of
Moratuwa, is the farming robot –SAASbot (Scalable Autonomous Agronomical Smartbot). SAASbot is a
fully autonomous robot which is capable maintaining plantations in home gardens or even medium scale
farms from the point of planting seeds, up to the point of harvesting. The robot was designed and
developed by three undergraduate students in the Department of Electronic and Telecommunication
Engineering of the University of Moratuwa, namely, Achala Athukorala, Kosala Herath and Nipuna
Ranasinghe under the guidance of Dr. Peshala Jayasekara and Dr. Thilina Lalitharatne, senior lecturers of
University of Moratuwa, from Department of Electronic and Telecommunication Engineering and
Department of Mechanical Engineering respectively.
Dr. Peshala Jayasekara, the creator of the "Scalable Farming Robot" concept states that "the focus is not
on the automation of farming activities, but on changing the whole culture of agriculture ". Present day
world is heavily dependent on large scale farms to fulfil agricultural product requirements for daily
consumption. Almost all the agricultural products are grown in remote large-scale farms, which are then
transported to markets, to be purchased by consumers. With the rapid increase of worldwide human
population throughout the last decades, centralized supply chain of agricultural products forces remote
large-scale farms to increase their supply continually. As a result, the artificial chemical (insecticides,
pesticides) usage in farming has been increased drastically with the aim of increasing yield. Furthermore,
the use of chemical preservatives has also been significantly increased to reduce the wastage occurring
during transportation and storage of agricultural products. Due to these factors, the agricultural
products in present markets pose a serious threat to health of consumers. Furthermore, despite the
usage of chemical preservatives, there is a significant wastage of agricultural products presently, due to
inefficiencies in large-scale farming, transportation and storage.
According to the belief of the young innovators from University of Moratuwa, the solution to this crisis
lies in the decentralization of agricultural product supply, through motivating consumers to engage in
personal or medium-scale farming. However, people are demotivated to engage in farming due to
tiresomeness of conventional farming activities and time constraints. This is the core problem for which
SAASbot was built to solve, thereby facilitating anyone to engage in farming without additional effort or
time, thus changing the whole culture of agriculture, as envisioned by Dr. Jayasekara.
Currently in the world, there are only a very few agricultural robots available for purchase for
consumers, for personal farming or medium scale farming. However, all of these available robots have
either fixed farming areas (max ~ 8 square meters) or can only perform a specific farming activity only
(seeding, watering, fertilizing). SAASbot, developed by the undergraduates of University of Moratuwa
provides functionalities such as planting seeds, watering and fertilizing, surveillance, automatic weed
elimination with the added unique feature of scalability. The SAASbot can be used in a farming field of
any size or shape, making it superior to all the presently available commercial robots for personal to
medium scale farming. Looking at the sales data of currently available personal farming robots in the
market, it is evident that SAASbot is capable of securing a huge market share globally, if commercialized.
The whole mechanical system of SAASbot was developed from scratch in Sri Lanka, under the
supervision of Dr. Thilina Lalitharatne, at a fraction of the cost of existing commercial robots for personal
farming. SAASbot system consists of not only the SAASbot mobile farming robot but also a stationary
home station and the mobile app. The robot comprises a CNC (Computer Numerical Control) gantry and
a mobile platform with Mecanum wheels. The CNC mechanism allows the robot to carry out farming
operations within its dimensions and this area is called as a 'Cell'. The mobile platform allows the robot
to move to another cell. The use of the hybrid actuation system of Mecanum wheels and the 3-axis CNC
mechanism allows precise and faster end effector movement while facilitating scalability. Additionally
the actuation architecture used in SAASbot allows the robot to plant different plants in the same
farming field, and treat individual plant separately; a unique feature which is not present in mobile
farming robots. The robot has onboard seed, water and fertilizer storages and an onboard rechargeable
battery.
The team has also developed a SAASbot mobile app, which provides an easy and powerful interface for
the users to control the robot. The mobile app can be used to perform robot functions such as planting
seeds, watering, fertilizing and the app can also be used to create custom profiles for each plant type
(i.e. the daily water/ fertilizer requirement for a specific plant, crop harvesting time). SAASbot will
automatically carry out watering and fertilizing daily, according to the profiles created by the
application.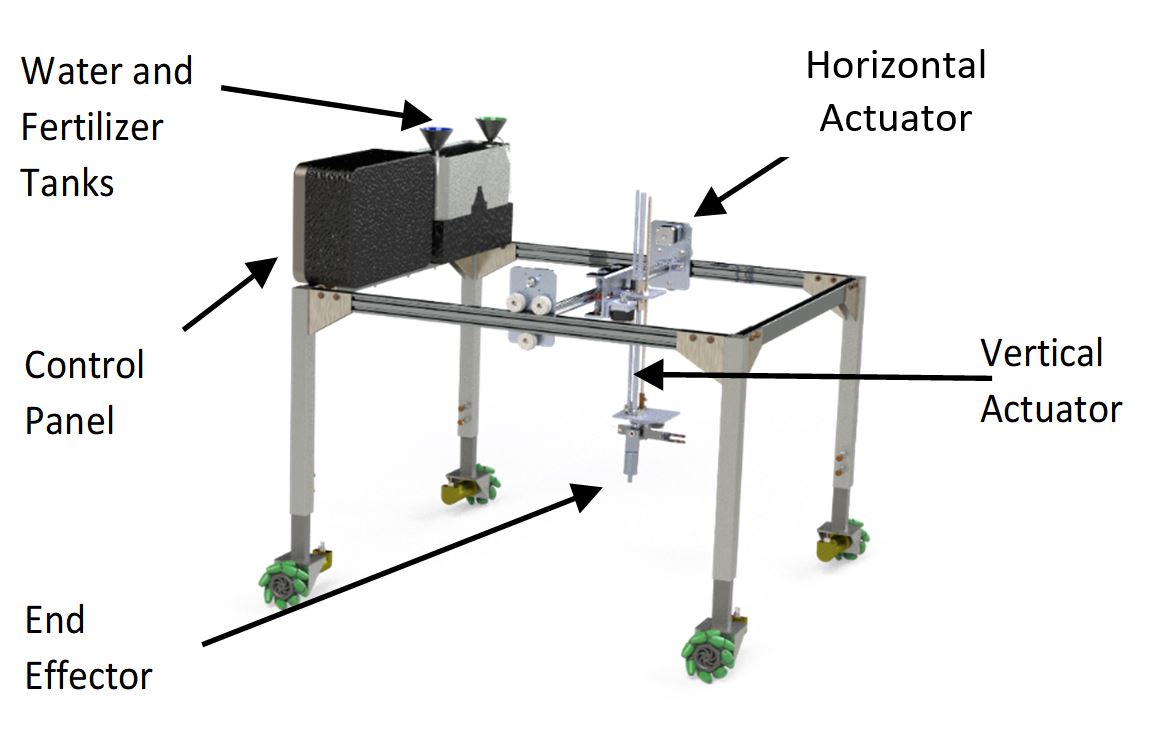 "University of Moratuwa undergraduates are diversely skilled. Our Engineering graduates possess
general Engineering knowledge relevant to numerous Engineering disciplines, not only constraining
themselves to their majoring field. All the three members of our team majored in Electronic and
Telecommunication Engineering, however we developed the whole SAASbot system from scratch in Sri
Lanka including the mechanical design, electrical and electronic design, control system design,
networking and mobile app development. Nevertheless, we had to face many difficulties regarding
mechanical system design implementation, due to lack of access to manufacturing technologies and
resources in Sri Lanka. Looking back, we recall the immense support and resources provided by Dr.
Thilina Lalitharatne in implementing the mechanical design. Furthermore, we must thank Dr. Peshala
Jayasekara, Head of The Department of Electronic and Telecommunication Engineering Professor Rohan
Munasinghe for their immense support throughout the development of SAASbot."
(Is it appropriate to recall people who are not relating to University?)
The methodology and results of the SAASbot have been presented at the 14 th International Conference
on Mechatronic and Embedded Systems and Applications of the American Society of Mechanical
Engineers (ASME) and Institute of Electrical and Electronics Engineers (IEEE), which was held in Finland
this year. SAASbot system is undergoing further developments currently, to increase its effectiveness in
different environments and to make the robot compatible with a wider variety of crops. We are inviting
researchers in agricultural robotics as well as potential investors to join us.
Information regarding SAASbot can be found on IEEE Xplore and Youtube.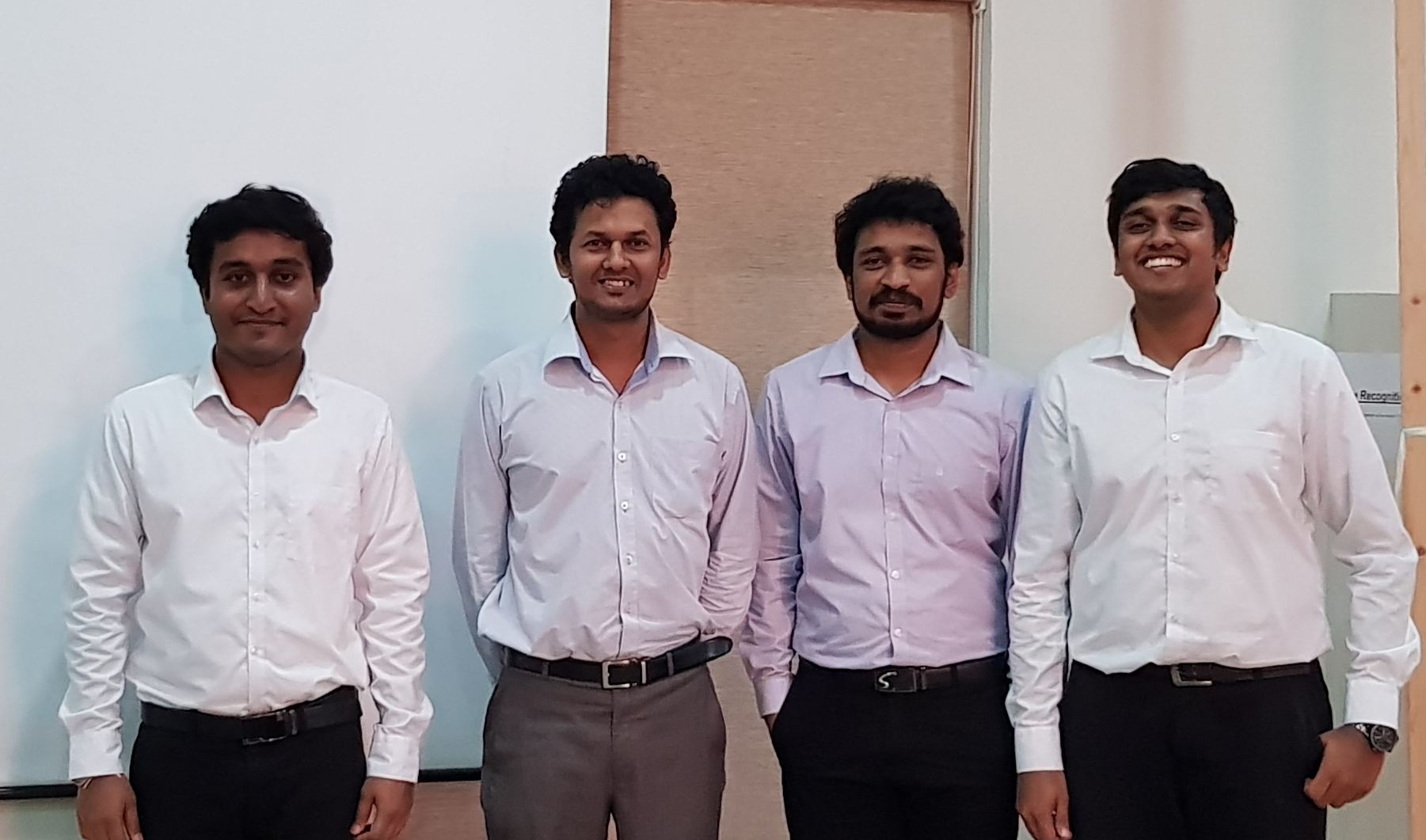 SAASbot Introduction:

Operation video:

For additional information, the team can be contacted on saasbot.uom@gmail.com