Published on
2020/10/02 - 06:35
The UoM team won the first runner-up award in the 2020 CASS COVID-19 Special Student Design Competition organized as an event of International Symposium on Circuits and Systems (ISCAS) 2020. ISCAS is the flagship conference of the IEEE Circuits and Systems society with more than 750 research paper presentations in each year.  The winner of the competition is a team represented the University de Toulon, France, and the second runner-up award won by a team represented the University of Rhode Island, USA.
The project of the UoM team, Intelliscope: A Low-Cost AI-powered Stethoscope for Cardiovascular Disease Management in Resource-Constrained Environments, proposed a low-cost wireless stethoscope with an artificial intelligence back-end to help both semi-trained and expert medical professionals to diagnose cardiac abnormalities while wearing personal protective equipment or maintaining a safe distance from the patient. The UoM team employed a blend of state-of-the-art biomedical engineering, digital signal processing and machine learning techniques to develop the Intelliscope.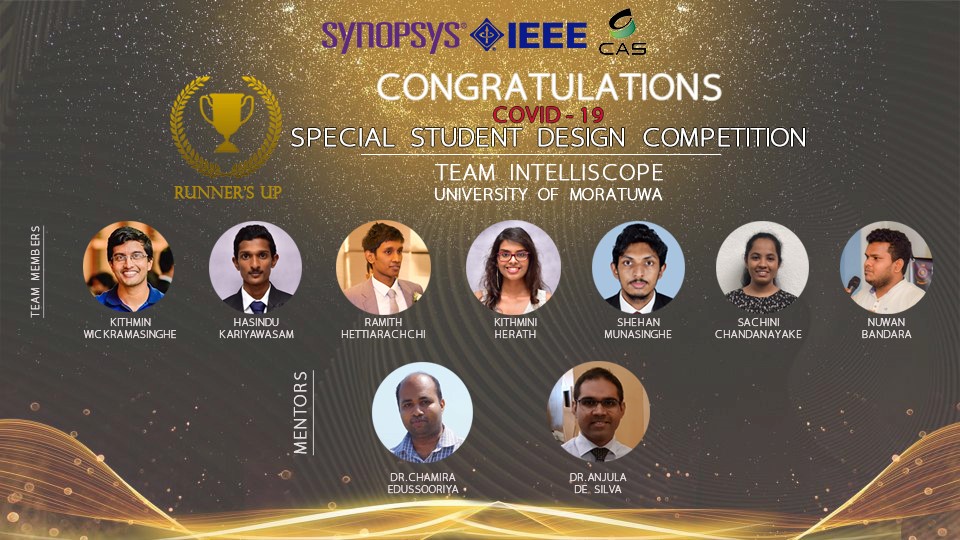 The winning team comprised of seven undergrads of the Department of Electronic and Telecommunication Engineering (ENTC): Kithmin Wickramasinghe, Hasindu Kariyawasam, Ramith Hettiarachchi, Kithmini Herath, Shehan Munasinghe, Sachini Chandanayake, and Nuwan Bandara. The team was mentored by Dr. Chamira Edussooriya and Dr. Anjula De Silva. The UoM team acknowledges valuable suggestions provided by Dr. Janaka Senarathna (Alumni of ENTC), Dr. Duminda Samarasinghe (Lady Ridgeway Hospital for Children, Colombo), Dr. Ranga Rodrigo and Dr. Nuwan Dayananda.