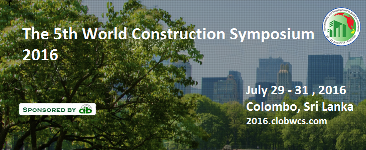 The Ceylon Institute of Builders (CIOB) and Building Economics and Management Research Unit (BEMRU), Department of Building Economics, University of Moratuwa, Sri Lanka are jointly organizing the 5th World Construction Symposium on 29-31 July 2016. The Symposium will provide a special forum for researchers and practitioners in the area of sustainable construction worldwide to share their knowledge, experience and research findings. The symposium is co-sponsored by International Council for Research and Innovation in Building and Construction (CIB). Liverpool John Moores University, United Kingdom, Centre for Innovation in Construction and Infrastructure Development (CICID), The University of Hong Kong, Indian Institute of Technology Madras (IIT Madras), Auckland University of Technology, New Zealand and Northumbria University, United Kingdom are the Associate Partners of the Symposium. Built Environment Project and Asset Management (BEPAM), a journal published by Emerald Group Publishing, has arranged for the following two awards:
BEPAM Best Paper award (with a certificate and a prize of 6 months online subscription for the author(s) of this paper)
BEPAM Highly Commended Paper award (with a certificate)
Papers within BEPAM scope and coverage will be shortlisted by the Symposium Panel and the final selection will be made by BEPAM Editorial representative(s). Authors of shortlisted symposium papers will be invited to develop their papers further based on any other findings and submit such rewritten papers for the possible publication in the BEPAM Journal, subject to the usual full double blind peer review process.