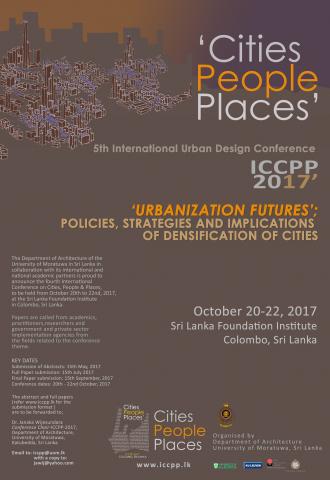 5th International Conference on Cities, People and Places (ICCPP-2017)
Urbanization Futures:
Policies, Strategies and Implications of Densification of Cities
October 20 –22, 2017
Sri Lanka Foundation Institute, Colombo, Sri Lanka
The Department of Architecture of the University of Moratuwa in Sri Lanka in collaboration with its international and national academic partners is proud to announce the fifth International Urban Design Conference on Cities, People & Places, will be held from October 20 to 22, 2017, at the Sri Lanka Foundation Institute in Colombo, Sri Lanka.
This conference invites urban researchers to examine the cities from the point of view of urban densification, through multi-polar approaches of different disciplines. They are asked to interrogate the issues at a variety of scales from the territorial to the urban, and from individual buildings, elements and places to the entire city and the assemblages of cities.
The research abstracts are now called from interested participants, and more info is available in website: www.iccpp.lk 
Download the poster from below Link